We are all familiar with the quote "keep your friends close and your enemies closer".
Whatever field of business you are in, whether you're a start-up, SME or large corporate company, if you want to stay one step ahead of your competitors then you need to be observing closely their actions and their strategies on a regular basis.
Monitoring what your competitors are doing online is essential for every business and innovative competitive intelligence tools have made this easier than ever. By doing that you can: Analyze and improve your own plans, tactics and strategies, get inspiration for new techniques to improve the relationship with your customers, find out what your competitors are doing better than you and beat the competition based on facts rather than assumptions.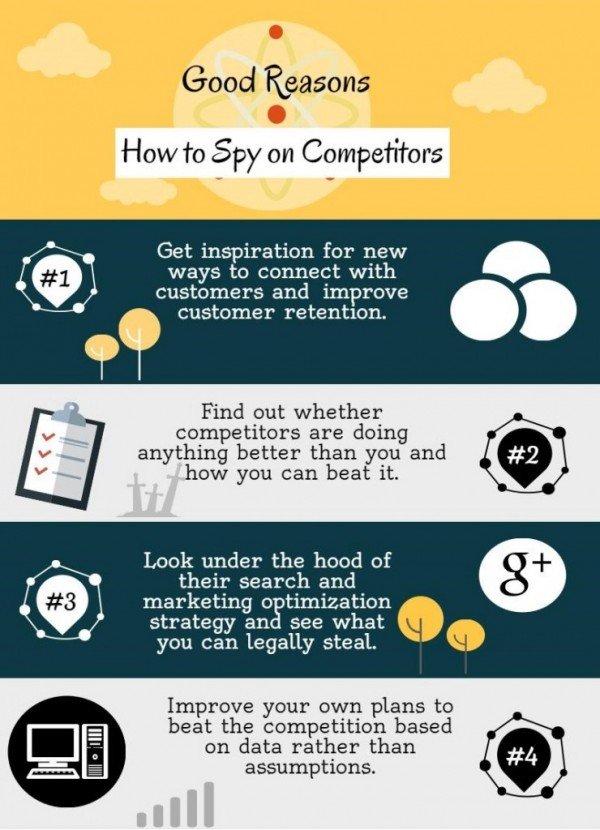 Image source The Mention Blog.
We have prepared a list of tools to track your competition (free and paid), grouped in specific categories.
Here it is:
 Web Ranking Tools
Alexa – Founded in 1996, Alexa has a rich history of providing deep analytical insights to benchmark, comparing and optimizing businesses on the web. Alexa is exclusively focused on delivering the richest and most meaningful analytics tools. Their obsession is to empower customers through actionable insights that drive measurable results for their business. They strongly believe in substance over style, which means you can count on getting the exact insights you need without having to navigate through extraneous content to get the information you need.

SimilarWeb's mission is to enhance decision making in the online world. They measure every website and mobile app, and work relentlessly to become the world standard for digital measurement. They reveal the complete picture and provide insights which marketers, analysts, and industry leaders can rely on in their day-to-day work. This robust tool allows you to analyze multiple areas of your competitor's online marketing strategy and compare it to your own. You can easily find gaps and opportunities for your own marketing campaign.
Quick Sprout Website Analyzer allows you to understand if your competitor has difficulties getting enough traffic to their website. In addition it allows you to see your competitor's missed opportunities and you can use use that information for your own benefit.
MOZ Bar is a tool from Moz, which acts as a free plugin bar. It allows you to see key metrics like page authority, domain authority, link counts, root domains, social shares and keyword difficulty score as you're browsing your competitors' sites.
Website Grader is a tool powered by Hubspot that lets you know how strong your website is.
SimplyMeaured places more tools into one, including analysis of influencers, brands, trends, traffic, conversions, competitors, and more. It covers all the main social media channels with 35 different reports.
WooRank is a tool which helps you address issues on your site and identify opportunities to get ahead of the competition.
SpyOnWeb is a pretty well-known, easy tool to use. It allows you to figure out which websites belong to the same website owner. It provides all information related to the entry on one page, collected from publicly available resources.
Compete has been measuring digital performance for 15 years. This tool describes itself as a "digital intelligence" tool which uses online consumer behavior.
SE Ranking helps you monitor your competitors' rankings on any search engines and target regions. In addition to that, you can get detailed reports on main competitors, including data on their average positions, traffic forecast, and website visibility.
Feed Compare is a great tool which help webmasters know who's reading their site and how many new readers they get each single day. Comparison of feed subscribers from other sites can be of great help to tell the true status of the number of subscribers one's site really has.
Analyzing search strategies tools
Google AdWords Keyword Planner Google Keyword Planner is a part of Google AdWords. A tool, created to help advertisers get relevant data about average monthly searchers, competition and bid prices for keywords of a one-year time frame.
iSpionage digs deeper at how your competitors are advertising with Google, Microsoft, and Yahoo search marketing tools. You can view ads and track their spending. It includes SEO competitive research and a social monitoring tool for Twitter and Facebook as well.
SemRush lets you monitor your competitors' organic keyword positions, see your competitors' PPC ads, find relevant long tail keywords and more. It also includes SEO tools. There's a wealth of data available from the free search bar on the homepage though you will need to upgrade for more detailed queries and results.
SpyFu allows you to look up the historical data up to six years on your competitors' keywords, ranking, and ads helping you with SEO and PPC advertising. It' a free tool, but it's limited and if you want to access to advanced competitive intelligence, you'll need to subscribe.
KeywordCompetitor will help you spy on both organic and paid keywords, ads, and landing pages for your competitors, with daily updates in rankings. The site offers tools for monitoring competitors and working with affiliate marketing too.
SeoTools for Excel add-in gives you access to a set of functions that are useful when working with online marketing. It comes in handy when looking at off-page SEO factors. Using CheckBacklink you can verify that your backlinks are still available and with GooglePageRank you can fetch PageRanks for multiple urls at ease. SeoTools comes packed with integrations to other marketing platforms like Google Analytics and Majestic.
SEOquake is a great toolbar that allows you to analyze your competitors both in Google search and on their websites. It provides you with statistics about page-rank, number of inbound and outbound links, Alexa rankings, keyword density, and much more.
Google Alerts not only that allows you to set up alerts for your own brand name and target keywords, but you can set up alerts to keep an eye on what your competitors are up to, as well. Use Google Alerts to see where your competitors are getting links and mentions.
SEO Book offers a set of SEO tools which will allow you to spy on your competition. The SEO Book Competitive Research Tool is like another version of SEMRush but only for organic search.
Traffic Travis is a desktop software that allows you to track how well your competitors are ranking for certain keywords.
Talkwalker Alerts offers a free service, similar to Google Alerts, giving you the choice of monitoring news, blogs, discussions, etc. You can also monitor content in different languages.
Ad Monitoring Tools
SocialAdNinja is a database of 400,000 social PPC ads. It is a great tool for monitoring Facebook advertising on a global level. It includes fine-grained search features so you can identify ads targeting by your key demographic and find out which links they point to. There is only one membership level type which is paid.

WhatRunsWhere helps you closely monitor your competitors to figure out their advertising strategy and where they are placing their ads. As a bonus, this tool offers you help with advertising research and split testing, finding new sources of traffic, and ad buying.
AdGooroo's on-demand tools and custom services provide robust and reliable Paid Search and SEO Intelligence to help you successfully benchmark your programs and gain an edge on your competition. In addition, their Professional Services enable you to maximize your AdGooroo program to best achieve your specific goals.
Moat's products include Moat Intelligence and Moat Analytics. They offer free ad search tool that allows you to go deeper in your competitors' brand names and see what ads they have shown recently. You can see the size and some of the places their ads have been seen recently, giving you even guidelines for where to place your own advertising.
Adbeat is an enterprise tool which allows you see all of the ads, particular advertisers are using, split test their ad copy to help you with strategy, and find competitors you didn't even know about. Their packages are paid, but there's a 30-day free trial.
MixRank allows you to see the mix of ads the companies you are interested in, are using. Without registering, you can see snapshots of this data that covers: display ads, text ads, advertisers, and demographics, but if you want to see the full report, you'll need to create an account.
AdClarity gives you the opportunity to uncover your competitors' media plans, campaigns, creatives, best performing publishers, mediators and traffic sources.
Backlink and link popularity Analysis Tools
Ahrefs is a professional backlink analysis tool that allows you to understand and get insights on who links to your competitors and how valuable these links are. You can use the data to find new opportunities for your link-building efforts.

monitorbacklinks is a relatively new tool which tracks competitors' backlinks, disclose negative backlinks, and find quality ones. It can help to analyze the backlinks of bloggers and webmasters in your field to build up your own link building strategy, build quality links from your competitors, and write link bait content. You can also estimate the traffic increase based on keyword positioning and efforts to boost good backlinks to a certain website.
ontolo is a great tool for backlink monitoring and content marketing. It can assist you with determining good content topics, finding authors to approach, and improving your link building strategies.
Majestic is a backlink checker and site explorer, a lot similar to Open Site Explorer, Ahrefs and Monitor Backlinks. It lets you see the number of backlinks, referring domains, type of domains, anchor text and analyze trust flow metrics.
Open Site Explorer is a powerful tool that allows you to see overall data on competitors' keywords strategy in both organic search and AdWords – and get even more related keywords.
Link Prospector allows you to spy on your competition and uncover backlink opportunities to improve your rankings.
SharedCount is a service that looks up the number of times a given URL has been shared on major social networks.
Social media, content and email monitoring tools
BuzzSumo is an amazing tool which provides you with analysis of what content performs best for any topic or competitor. Enables you to find the key influencers to promote your content as well.

SocialMention is a free web search tool, provides real time search of brand mentions on blogs, microblogs, images, videos, questions, and bookmarking sites. It also provides a broad brush sentiment analysis.
Mention offers media and social monitoring combined. It tracks content published on web pages, news sites, blogs, and forums in more than 40 languages. It provides real time social alerts and has an excellent mobile app.
BuiltWith investigates the technology behind your competitors' sites, content management, underlying technology, analytics, advertising, servers and much more.
Ninja Outreach is an all purpose influencer marketing tool designed for Bloggers, Startups, Small Businesses, digital marketers, Agencies & Consultants and large brands. This amazing tool includes: Lead Generation, Finding Guest Posts, Content Promotion,Collecting Contact Info, Finding Podcast Guests, Instagram Prospecting, Content Research, Blogger Outreach, Linkbuilding,Cold Emailing, Twitter Prospecting and Influencer Marketing.
Fanpage Karma is an online tool for social media analytics and monitoring. It helps social media managers and agencies to engage fans better and reach a growing community in the social networks. Fanpage Karma provides valuable insights on posting strategies and performance of social media profiles like Facebook, Twitter or YouTube.
Twitonomy is an analytics tool for Twitter that allows you to monitor mentions, retweets, favorites, etc. With it you can easily spot who is talking and what is talked about your competitors and what are they sharing with their followers.
InfiniGraph is a tool that allows tracking social media trends of your competitors in your niche and gets insight into your target audience.
Followerwonk helps you explore and grow your social graph. It allows you to dig deeper into Twitter analytics: Who are your followers? Where are they located? When do they tweet? Find and connect with new influencers in your niche. Use super-actionable visualizations to compare your social graph to others and easily share your reports with the world.
Instapaper is a tool that turns web content – articles, stories, posts, videos, and even long emails – into a great reading experience.
Feedly is a news aggregator application for various web browsers and mobile devices running iOS and Android, also available as a cloud-based service. It compiles news feeds from a variety of online sources for the user to customize and share with others.
WayBack Machine lets you see how your competitors' pages looked in the past via the Internet Archive.
Klout suggests shareable content that your audience hasn't seen yet. Create content that strikes a chord with your friends, fans, and followers. Track how retweets, likes, and shares. Klout also offers several ways to bring influencers and brands together.
Virality Score is a tool that measures virality and web content value. It can be an alternative to PageRank. It's similar to Klout, but for content.
Social Searcher is a Free Social Media Search Engine. It allows you to search for content in social networks in real-time and provides deep analytics data. Users can search without logging in for publicly posted information on Twitter, Google+, Facebook, Youtube, Instagram, Tumblr, Reddit, Flickr, Dailymotion and Vimeo. Free users can also set up email alerts. Premium Social Monitoring features include: saving social mentions history, exporting data, API integration, advanced analytics, immediate email notifications.
TweetDeck is one of the most powerful Twitter tools for real-time tracking, organizing and engagement. It allows you to organize and build custom timelines, keep track of lists, searches, activity and more—all in one interface.
SocialBro is a tool that provides you with all the information you need to optimize your Twitter strategy.
Commun.it is best known as a free tool for building engagement on your own Twitter account. But you can easily check the URL of your top competitor to see how their online presence is performing.
Email Insights is a tool where you can see and track your competitors' email. Gives you email previews, send frequency and subject line analysis.
WhosMailingWhat is a paid tool, which allows you to check out your competitors' direct mail, email, and social campaigns. It's a good way to keep track of trends, get ideas, and see what the competition is up to.
Quantcast provides a free cross-platform audience measurement for your mobile app, site, network or platform. You can get the most accurate demographic and lifestyle insights for any audience you want to analyze. Armed with better audience intelligence, you'll attract more advertisers and acquire users more effectively.
Tips: Try to get as much information on your competitors. The more information you can get, the better. This information will be your guide to your success. So pick the tools that fit your company's needs best (if you can't decide try out the ones that offer free trial and then make a decision), sign-up for their newsletters, look at their ads, monitor their online presence on the social media channels, discover exactly what keywords are using, subscribe to their blogs to see what kind of content they are covering, track the changes the make and  check out the announcements of forthcoming launches.
What are your personally favorite competitive intelligence tools? Let us know your thoughts and comments
For more business tips, check our entrepreneurship section and subscribe to our weekly newsletters.