F6S, the leading global network for startup founders, has released F6S Alpha, an invite-only membership for top startup founders from around the world. Initially it is going to be available to 20,000 venture founders.
With F6S Alpha, qualifying founders will gain exclusive access to $1 million worth of free services, free flights, cost-saving benefits and VIP access to premier startup events. There is no charge for Alpha membership in line with the 'Give First' values driving the community's rapid growth.
"F6S Alpha brings together the F6S community to support top founders around the world. F6S is already home to 1.2 million users from founders taking their first steps through to fast-scaling startup unicorns," said Sean Kane, F6S co-founder. "Last year, the F6S community delivered $1 billion in resources to F6S founders and Alpha is part of our goal to reach $2 billion across the startup ecosystem in 2016."
Exclusive F6S Alpha perks include free flights on American Airlines, travel discounts with companies like Avis, priority access to startup events, such as Wired and Mobile World Congress 4YFN, and to co-working spaces, such as WeWork. More than 100 additional companies are supporting each F6S Alpha Founder with growth services, such as hosting from Rackspace, email infrastructure from Sendgrid and many others. Alpha founders are able to see what benefits others are taking, share reviews and engage with supporting organizations.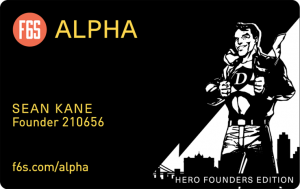 The first 2,000 F6S Alpha Founders from all over world will receive their invitations today, and additional 18,000 invites will go out to remaining Alpha Founders in the upcoming weeks. Any qualified founder can still request an invitation to F6S Alpha membership.
In addition to the new Alpha program, F6S will continue to deliver the popular existing F6S founder benefits for free.
F6S is the free global network for founder growth, with a 1.2 million plus community of startup founders, investors, corporates, public sector members and startup programs worldwide. The F6S community is a global social graph that connects members with jobs and talent, investment, exclusive benefits, services and more opportunities.
For more business and career tips, check our entrepreneurship section and subscribe to our weekly newsletters.