Marketing Automation is one of the hottest marketing tools available on the Internet.
Though nothing new, automated direct response to cataloged clients or potential customers has always been a favourite way for businesses to approach customers.
At the same time, the benefits brought about by Social Media to the Business to Consumer field cannot be overstated.
The integration of Marketing Automation with the ever-growing Social Media universe has turned Marketing Automation into one of the most efficient tools for digital marketing strategy.
So what is Marketing Automation and how can companies further benefit from its interaction with Social Media?
Marketing Automation is a methodology built on a very basic concept: the gathering, analysis and putting in good use of digital footprint trails that people leave behind them when surfing on the Internet.
This procedure is supported by software. The more this formula optimizes on the information available in the available data banks, the more successful the process of automation is considered.
The step-by-step retracing of a story of a person looking to buy a mattress is indicative to the basic benefits of Marketing Automation. You grab your mobile device on impulse and browse a query as follows: "mattress", "my location", "orthopedic", "best offer", "discount".
After checking a few top scores you then decide to switch to a larger screen and type the name of a mattress company you picked in the browser of your laptop.
You then open another tab dedicated to price comparison service and start checking the offers. At the same time, you are also looking into opinions and the fan page of the company that produces the product. As you seem to be hesitating, you decide to also visit a brick-and-mortar store and experience mattresses hands-on, before making the final choice.
In this story, the automation role starts from the time the potential buyer of mattresses visits the commercial websites.
The system gathers information such as: what has been browsed, duration of the visit to the particular website, products added to the shopping cart, contact data of the visitor if provided, web pushes receipts allowed, even a detailed account of the movement of the cursor.
Adding up all those clues, the marketing automation platform builds a digital profile of the potential customer. The image below depicts this process: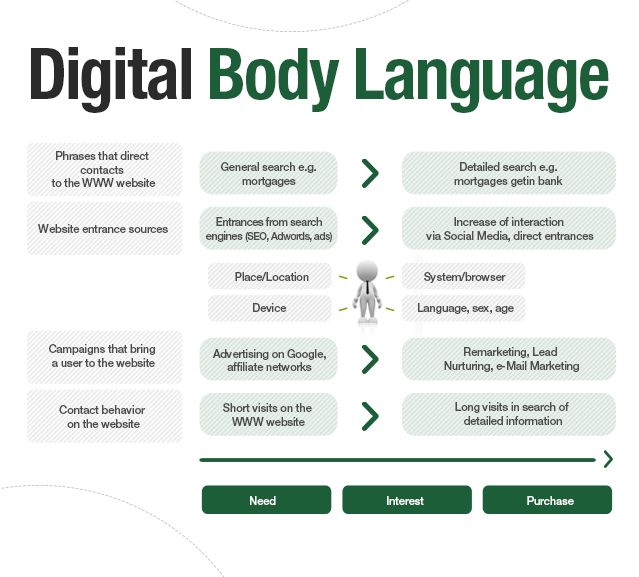 As an output, the user of the Marketing Automation platform receives the contact card with the shopper's preferences including the history of website behavior, a set of useful tags and panel of quick actions that can be performed if necessary.
Secondly, this Jane Q. Public web surfer will appear in the contact base of the Automation platform and be added to one or more pre-defined segments.
Finally with this in hand the user can educate Jane, send her an offer, while at the same time inform the sales department, call center, add a scoring to her account, show her dynamic website content (for example a pop-up with the picture of what she watched on the website), add her to the Facebook Custom Audience of a FB ad campaign, show her ads via RTB network and so on.
Furthermore, once Jane Q. becomes a client, the Automation platform user can analyze purchase behavior and thus be able to extend the lifespan of customers by increasing their lifetime value.
For the past years, Social Media has been revolutionizing marketing techniques/approaches by making products and services accessible to millions of consumers who would otherwise never have been interested in them.
Spread across a vast array of platforms (such as LinkedIn, Facebook, Twitter, Instagram, Snapchat among many) each of which targets different types of audiences, Social Media has become a very potent marketing tool capable of the simultaneous dissemination of products to very diverse groups.
For instance, launching a marketing campaign on LinkedIn is accessing its half a billion professionals marked by a higher than average net income and professional status.
At the same time, Social Media may also reach a more personalized audience of Facebook while simultaneously Twitter rapidly fires away in its 140 characters messaging limit.
Whereas on platforms such as Pinterest and Instagram the visual aspects of the product prevail.
Never before have products been able to access such a vast array of diverse groups as in this age of Social Media.
One of the most important causes for this rapid and meteoric expansion of Social Media has been the arrival of smartphones which, by becoming carriers of the Internet themselves, liberated people from the constraints of the desktop as they made this traffic of information available at the palm of one's hand.
The transition from 2G to 3G and 4G has helped overcome poor reception and weak signal on one hand and allowed for great Internet speed on the other.
Furthermore, this progress has allowed the Internet to access the furthest reaches of the planet, covering remote areas such as jungles, deserts and the highest mountain tops. Though the consumer benefits of such conquests are minimal, its symbolism and marketing importance are huge.
If one adds up the difference in price between a smartphone and a PC, it is no wonder that, in fact, in several countries smartphones are used as the main tool for surfing the web.
As the smartphone universe has also incorporated entertainment platforms (YouTube, Shazam, iTunes to name a few) prospects for expansion can only look thrilling.
In fact, as Internet users on our planet have bypassed the 3.5 billion milestones, one should also take into account that this growing figure should be reflected in the ever-growing universe of Social Media.
Moreover, due to this proliferation of smartphones, any information gathered on clients can be integrated with a mobile automation platform by using a mobile app. This app can further collect a completely new set of data and blend it with information collected from the website of companies which use similar types of digital marketing strategy.
For 2016, the number of smartphone users is forecast to reach 2.1 billion (up from 1.86 billion in 2015 and 1.57 billion in 2014).

While for 2016, the number of social media users is forecast to reach 2.34 billion (up from 2.14 billion in 2015 and 1.91 billion in 2014).
Due to the nature and size of Social Media, effective exposure in digital marketing on these platforms can generate an endless flow of website visitors who can be perceived as raw Potential Leads for a company. The application of a very targeted marketed automation policy can turn these raw leads into customers. A match that is bound to produce profitable results for businesses using them.
Moreover, there are several ways that you can integrate Marketing Automation with Social Media, some of which entail:
Reacting to the Social Media actions of users by setting up automated alerts on the marketing automation platform. For example, you can automate the sales chat by asking and automatically inserting contact data in your CRM.
Creating Custom Audiences for your Social Media Ad Campaigns by using data gathered by your marketing automation platform (such as gathered behavioral data) which enable you to personalize ads accordingly. This means that your message will be displayed to a precisely defined group of recipients, like for example loyal customers, bloggers, users who opted out from your newsletter (or never open your emails). You can also use this to exclude some recipients (like existing customers).
Automatically importing contacts from Lead Ads to the CRM – with intelligent software you can create lead ads campaigns and send contacts to CRM via forms placed in the adverts. The whole process should take up to 6 sec. The contacts are sent with the proper tag, therefore with the automation rules, you can immediately launch a new automated sequence.
Incorporating Social Media reactions to automation workflow – you can integrate Social Media ads into marketing automation processes. By using complete behavioral and transactional profiles, marketers can reach customers and groups of customers in a more precise, automated and efficient way. Automation of ad display or post boosting can be tied to any data gathered in marketing automation platform, like intelligence about user website behavior, stage of the sales campaign of which a lead is at, or external events, such as contacting salespeople or customer service.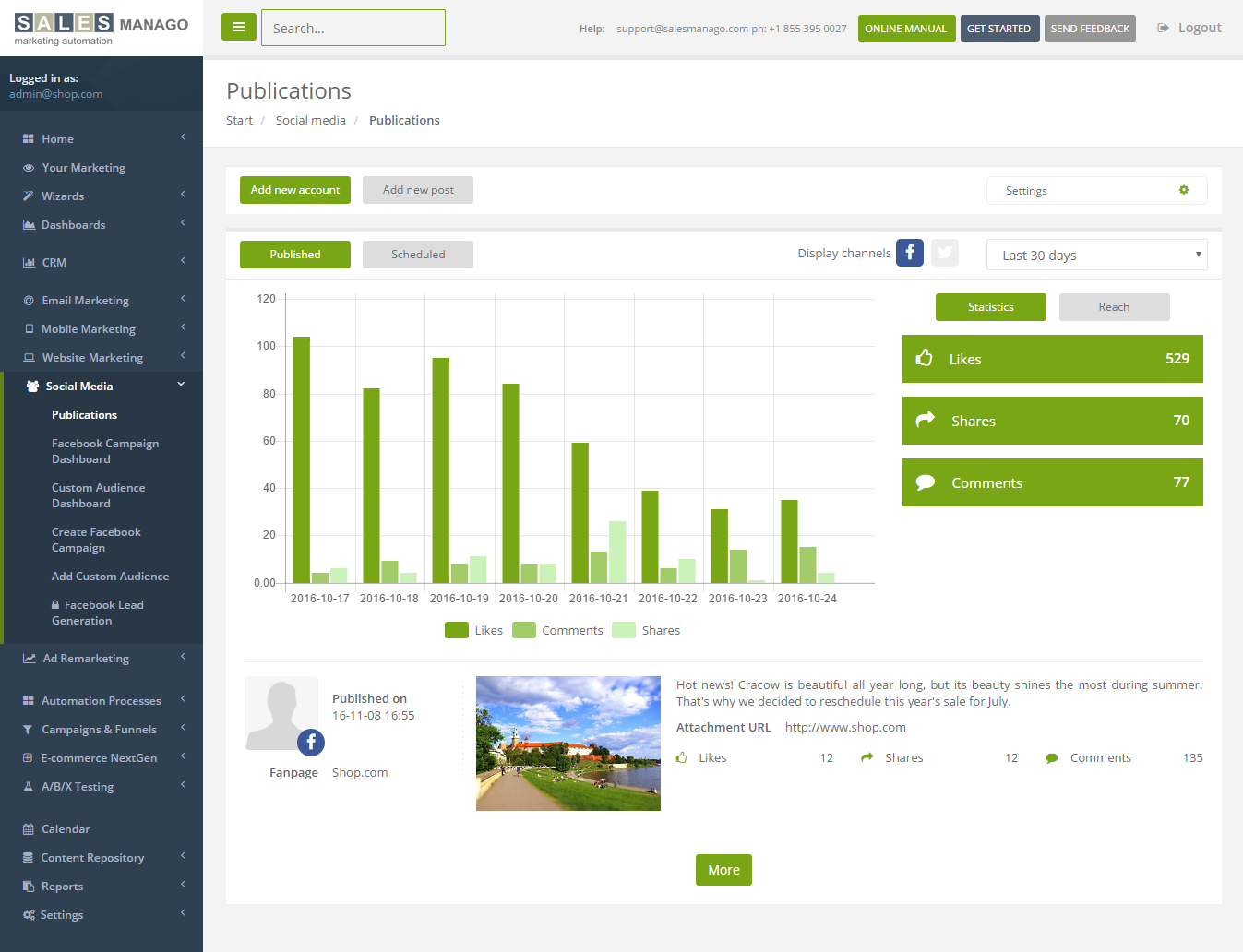 Lastly, we can't stress this enough:
always check what works best for your business and your audience.
What causes the most engagement and conversion rate. So spend some time to identify the platform tools, marketing automation analytic panels, surveys or even open source web tools that bring the most engagement and conversion rates for your business. In other words, focus on what brings tangible results to your business.
Can you think of other ways that marketing automation integrates with Social Media? We'd love to know your thoughts! Feel free to share them in the comments section below.
This post was written with Grzegorz Błażewicz – CEO & Founder of SALESmanago, one of the largest Marketing Automation Platforms for Small & Medium-sized Companies.
For more business and marketing tips, check our entrepreneurship section and subscribe to our weekly newsletters.