We cannot manage a business effectively if we do not have in-depth understanding of where modern commerce challenges are.
With economies growing in scale and scope and a tremendous number of new ventures being born each day, the demand for superior managerial knowledge is only increasing.
Organisational anatomy: a manager's guide to a healthy organisation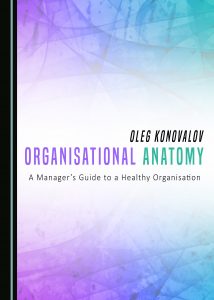 A new management concept, which is discussed in a recently released book Organisational Anatomy: a Manager's Guide to a Healthy Organisation, views all organisational processes from a biological viewpoint.
By taking a fascinating and innovative approach, the book compares organisations to living bodies and makes sense of complex processes. It also enables the reader to understand organisations intuitively as absolutely natural.
Organisations are different
It is clearly explained in offered classification of organisational archetypes: producers, knowledge-dependent, location-dependent, donor-dependent and state-affiliated.
Businesses differ in terms of access to resources, their specific properties, patterns of functioning and so, typical and atypical diseases and pathologies.
The strength of organisational relations defines the distance to resources
This concept offers an engaging explanation of critical processes of development and structural logic behind external relationships which secures a smooth flow of resources. Such processes are resource-securing, value-adding and service relations.
The issue of internal coordination of key functions and organisational endurance towards external forces and competition is particularly relevant to small and medium-sized enterprises and newly established businesses securing their place on the market.
By referring to the book, the prevailing image of the "market" is a horde of wolves where the position is important, space is premium and there is little or no place, food or support for the weakest of the pack.
For the first time, this book offers a discussion of typical and atypical organisational diseases and pathologies – typological, neurological, functional, age-related and general ones. Understanding of these disorders can assist in enhanced balanced decision making and problem solving. Resolving them would lead to high performance within organizations.
Organisational Anatomy rediscovers organisations and guides to the next level of organisational growth and development. It can be considered as a forthcoming powerful trend in management allowing achieving excellent results on a regular basis.
The book is written in a practical and simple (but not simplistic) manner. The rich use of metaphors from daily managers' lives makes it even more valuable, accessible and easy to follow. This is no wonder why Organisational Anatomy is endorsed by Financial Times, UK Trade & Investment, corporate experts and top academics.
For more management and business tips, check our entrepreneurship section section and subscribe to our weekly newsletters.