Intakes for the full-time and part-time MBA programs take place in October, January and March.
Now accepting applications for the fall 2020 intake | Apply now
Deadline: August 31, 2020
Eligibility: If you hold a bachelor's degree, have a GPA of 3.0 and a satisfactory score on the GMAT or GRE, we encourage you to apply
Locations: Barcelona, Spain; Geneva and Montreux, Switzerland; Munich, Germany and online campus
Get your MBA at EU Business School
Are you dreaming of running your own thriving venture? Craving the experience and knowledge that will prepare you for success in the global business world?
Despite all that's happened over the past few weeks, you don't need to put your dreams on hold. At EU Business School, we can help you to achieve your goals.
Don't wait, start your course online and continue on campus in Europe's most vibrant cities
The new normal demands a new approach. Instead of waiting, start pursuing your degree online and continue on campus once you can.
Together we can adjust the program to suit your needs so that you are able to make the most of your learning experience.
EU's application deadlines have been relaxed, admissions counselors are available to offer support, including with visas and other documentation, and we're offering our own English test while others, such as TOEFL, are suspended.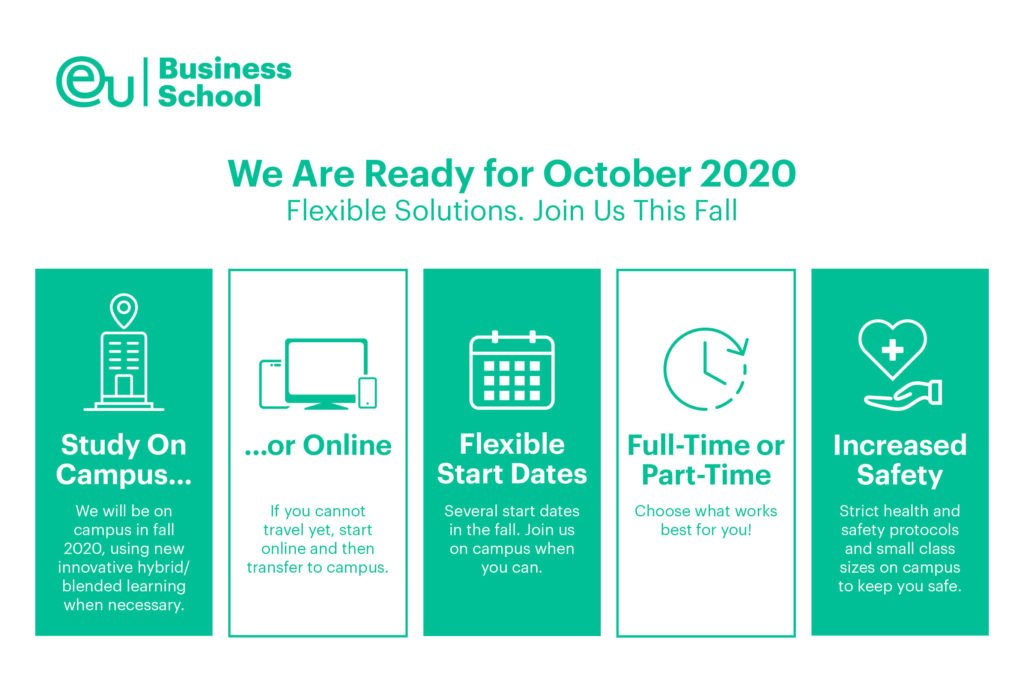 Make one of EU Business School's European campuses your MBA study destination
Whether you are looking for idyllic surroundings, a cultural or international business hub, calm and serenity or a vibrant place to meet people, EU's campus cities have plenty to offer:
Barcelona

As one of the most popular destinations in Europe, the capital of sunny Catalonia attracts thousands of international students every year. The quality of education, delicious food, breathtaking architecture, vibrant nightlife and famous Spanish lifestyle make it one of the best places to study and live.
---
Montreux

Surrounded by Swiss Alps, the lakeside city of Montreux is one of the most scenic destinations in Switzerland. Located on the shore of Lake Geneva, this city is famous for its culture, beautiful nature and vibrant nightlife. Undoubtedly there is plenty to experience there, but you will also have the chance to find tranquillity and inspiration.
---
Geneva

Packed with international organizations and business headquarters including the United Nations, the capital of Switzerland is a cultural meeting point. This dynamic city attracts many businesses people, industry leaders, diplomats, students and visitors. Studying in Geneva you will have plenty of opportunities to network, attend industry events and meet an international crowd.
---
Munich

The capital of Bavaria is not only known for Oktoberfest, but also for a high quality of life and standard of education. It attracts young professionals from all around the world, both to study and do business. A strong economic centre, the business hub of Germany offers plenty of work opportunities and leisure activities.
I wanted my postgraduate studies to be strongly focused on international business approaches. I thought that EU Business School would be the best choice, because of the wide range of MBA courses on offer and the impressive number of international people in the school. I thought it would be a great multicultural experience for me, while focusing my studies specifically on international business and developing valuable global networks.
— Tatia Batsikadze, Dow Jones, EU Business School MBA alumna
In Barcelona, Geneva, Montreux and Munich, you can choose to get your MBA degree in one of 11 majors:
International Business
Communication & Public Relations
International Marketing
Global Banking & Finance
Leisure & Tourism Management
Entrepreneurship
Digital Business
Sports Management
Human Resources Management
Design Management
Blockchain Management
Got questions about the program and whether it is the right fit for your career path? Check out the upcoming webinars from the EU Business School team.
Get your degree online
Want to enrol for the MBA program, but can't move to any of the campuses above? Don't worry, you can study at EU Business School's online campus!
EU's online campus offers 8 majors:
International Business
Communication & Public Relations
International Marketing
Global Banking & Finance
Entrepreneurship
Digital Business
Human Resources Management
Blockchain Management
Moreover, studying at EU Business School gives you the opportunity to get dual qualifications, (both awarded by the University of Roehampton) on campus and online:
MSc in International Management
MBA
The full-time MBA programs last one year (three terms of 10 weeks each). You can also enrol for a part-time option which is studied over two years (six terms of 10 weeks each).
Is the MBA program for me?
🎓 Do you hold a bachelor's degree?
💬 Do you have a good English level?
📚 Do you have a 3.0+ GPA score? Or, a good score at GMAT or GRE?
If you've answered yes to the above, then you should apply for the MBA program!
Studying an MBA at EU imparted me the skills which are necessary to excel in the business world. The theoretical knowledge, an enormous number of case studies and practical insights from the real-life experiences of lecturers prepared me for my job at BCG Consulting Group.
 — Zia Siddiqui, BCG, EU Business School MBA alumnus
After successfully completing the MBA programs at EU's Barcelona, Geneva, Montreux and online campuses, you will earn a state-recognized MBA degree accredited by Universidad Católica San Antonio de Murcia (UCAM), Spain, and an EU Business School Switzerland, internationally accredited degree.
While completing the EU MBA program, you have the possibility to earn a U.K. state-accredited MBA degree from the University of Roehampton (UoR) in London (120 ECTS).
Additionally, if you have 2+ years of professional work experience, you can apply for the MBA dual qualification in Switzerland and Barcelona, or for the MBA program in Munich.
Don't miss your opportunity to join EU Business School this fall! Kickstart your future and apply now to get your MBA degree.
---
For more opportunities, check our opportunities section and subscribe to our weekly newsletters.