Deadline: December 7, 2020 23:59 CET| Apply NOW
[Oops, the opportunity has already expired. Sign up to AlphaGamma weekly newsletters to stay ahead of the game]
Dates: February 15 - May 6, 2021
Eligibility: Students and graduates from all backgrounds – in teams or individually – are encouraged to apply: Engineers, Marketing Wizards, Techies, Business Developers, Designers… every skill is needed in this project (important: you need to be eligible to work in Germany/EU)
Location: Frankfurt, Germany
Update: 20/20 spots have already been filled in. Thanks to everyone who applied and make sure you stay tuned for another opportunities by subscribing to our weekly newsletter and following us on Twitter, Facebook, Instagram and LinkedIn.
Are you fed up with traffic, pollution and other problems cities currently face? Would you like to improve the world we live in and make it more sustainable? Do you want to be a part of the urban mobility transformation?
If you answer with a resounding "yes" to all of these questions, then:
🚨 Apply now for the Mission V: "MOBILITY – Be Urban" and revolutionize mobility together with SEAT and FUTURY
FUTURY, together with one of the automotive industry pioneers – SEAT – invites you to develop a solution for a more sustainable future of urban mobility.
SEAT has already developed various new products and services for micro-mobility and wants to take the e-revolution to the next level by focusing on urban mobility.
For example, their already existing fleet of modern and electric urban vehicles, like the SEAT Mó, is the perfect starting point for introducing new ways of mobility.
Together with FUTURY, we are looking for the best
entrepreneurial talents to help us design and create new customer journeys for urban mobility.

Join us and turn YOUR IDEAS into reality.
 – Giuseppe Fiordispina, SEAT, Marketing Director
During the Mission V, you and your team are encouraged to come up with new models of customer journeys that redefine urban mobility along with the following fields to make it more customer-friendly and sustainable.
The Mission V poses a question to all participants: how can we shape the future of urban mobility by developing new journeys for consumers, business and logistics?
‍The Mission is a series of 12 innovation projects aiming to bring sustainability into different fields of the industry. FUTURY connects market leaders of each industry with young talents ready and willing to challenge the status quo.
Develop new journeys for consumers, businesses and logistics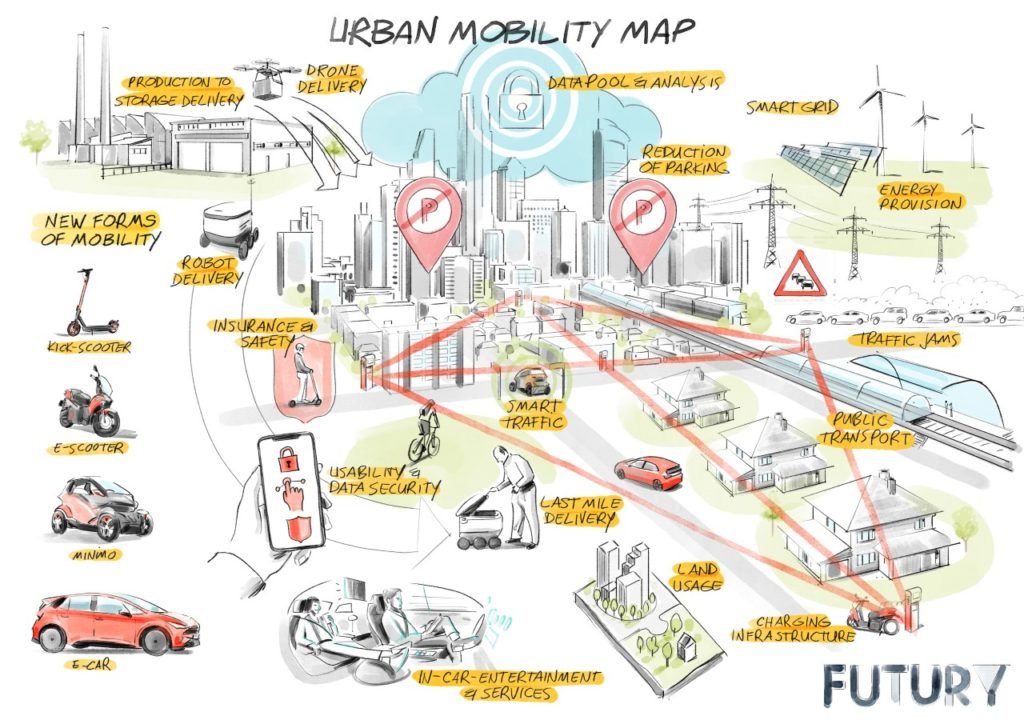 During the project, you can choose one journey – B2C, B2B or Logistics – where you can identify a problem and then offer a viable solution that would make the lives of the commuters easier.
1. B2C Mobility Journey
How can we transform the mobility of people for all kind of reasons (Work, Leisure, Duties, etc.)?
Think of:
Tackling the desires and needs of the mass market of private customers
Journeys and experiences from departure to arrival should be optimized and simplified
An integrated journey including all forms of mobility
2. B2B Mobility Journey
Is there a way for the mobility addressing special needs and requirements of businesses to be more green?
Consider:
New commuting solutions for employees
Corporate Mobility Management as integrated solutions
Location-specific solutions tailored to the corporates' needs
3. Logistics Journey
Can you think of a more sustainable way for the transportation of goods (e.g. parcels) from production/storage to the end-customer?
Focus on:
Time and locations specific delivery for the last mile
The linkage between logistic hubs and end-points (recipient)
New means of transportation, e.g. robots, drones, etc.
How does the project work?
20 selected candidates will join the 3-month incubation program and work on innovative solutions along with 10+ companies in the urban mobility sector.
You will be teamed up with 4 other talented individuals. Together, you will work on your own innovative solution, making the urban mobility sector more sustainable.
The project's goal is to create innovative solutions really disrupting the micro-mobility sector.
FUTURY and the project partners offer support, expertise, and everything else you need to succeed
The purpose of the Mission is to develop outcomes that continue to exist beyond the project. Perhaps this could be your entry into the startup world?
Besides an energizing team spirit, you become part of a potential new start-up in a setting incomparable to anything else.

Or can you think about a place where you get all the freedom you need to be creative and being paid for creating your own company?
– Niklas Schäfer, FUTURY Alumnus
The fully-funded program will support you on all of the stages of this entrepreneurial journey.
This is your unique opportunity to suggest and implement your own innovative and disruptive solutions for urban mobility, experience entrepreneurship first hand, and get direct feedback from companies that are experts in this industry.
All the project-related costs, such as the prototype, travelling to partners during the project and so on, will be covered. Additionally, you will get a monthly allowance to cover your stay in Frankfurt.
The project requires you to move to Frankfurt to develop the idea. You will be provided with office space in TechQuartier in Frankfurt.
🏆 Are you ready to join the project and turn your sustainable idea into reality? APPLY to participate in the FUTURY Mission V: MOBILITY – Be Urban! in only 3 quick steps here.
---
For more exciting opportunities, subscribe to our weekly newsletter and follow us on Twitter, Facebook, Instagram and LinkedIn.