Deadline: June 30, 2016 | Apply here
[Oops, the opportunity has already expired. Sign up to AlphaGamma weekly newsletters to stay ahead of the game]
Prizes: more than EUR 1.3 million in prizes
Location: Madrid, Spain
Clear your calendar for this year's joint Awards Ceremony of Europe's major innovation competitions for space downstream applications – the European Satellite Navigation Competition and the Copernicus Masters, to be held for the first time in Madrid, Spain. The Awards Ceremony will be co-organised by the local ESNC partners of the Madrid Challenge – Fundación para el Conocimiento madri+d and the Comunidad de Madrid.
European Satellite Navigation Competition 2016
Join The Awards Ceremony 2016 of the European Satellite Navigation Competition (ESNC) and the Copernicus Masters on 25 October, 2016 in Madrid, Spain!
Join the ESNC global innovation network and get connected with our world-class partners, thrilling start-ups and visionary entrepreneurs. Discover this year's awesome prizes, meet us at several kick-off events across Europe, and learn about the latest news in GNSS.
Each year, the European Satellite Navigation Competition (ESNC) seeks services, products, and business innovations that use satellite navigation in everyday life. In the 2016 edition, prizes will be awarded by some of the most relevant institutional GNSS stakeholders, such as the European Space Agency (ESA), the German Aerospace Center (DLR), and the German Federal Ministry of Transport and Digital Infrastructure (BMVI).
In addition, >20 partner regions from all over the world host their own regional challenges. The prize pool this year is valued at approximately EUR 1 million, which includes cash awards, business incubation, business coaching, patent consulting, technical support, access to testing facilities, prototype development, publicity, marketing support, and much more. All of the winners will be recognized on stage at a festive Awards Ceremony in autumn 2016.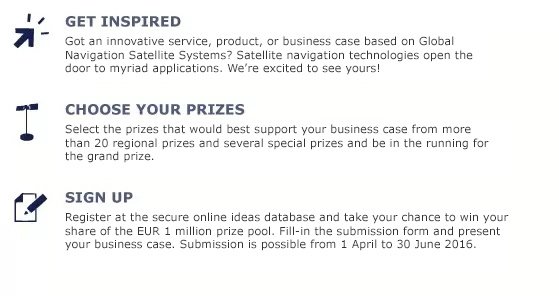 Why attend?
Discover cutting edge space applications that make use of GALILEO and COPERNICUS
Connect with more than 400 attendees from across Europe and beyond and expand your network
Meet award winning entrepreneurs, start-ups, and SMEs
Discuss with industry leaders, space stakeholders, and policy makers
Evaluation process and judging criteria
All complete entries will be assessed by the expert panels of the respective regions and special prize partners (when applicable). All experts assigned to evaluate the submitted ideas have to accept a non-disclosure agreement in order to gain access to the proposals.
The overall winner of the ESNC will be selected from among all the regional and special prize winners by an international panel of high-ranking experts. The overall winner will be selected in a secret vote and will be revealed at the annual Awards Ceremony.
The experts are asked to assess the ideas based mainly on the following criteria:
Potential benefit(s) of the idea
Innovation level
Significance of the use of GNSS in realising the idea
Technological feasibility
Availability of a prototype
Chances of becoming a commercial success
Investment potential
Time it would take to implement (time to market)
Legal risks
Advantage(s) compared to other existing/conventional solutions
Patent eligibility
No matter where you are with your project, service, or business innovation, compete for top prizes that will help you launch your business!
ESNC's unique benefits
No matter what stage the idea is – from the first business concept up to prototype testing – the ESNC offers appropriate opportunities for all cases at any stage of the value chain.
Thereby the ESNC is not only the prestigious competition for GNSS-related ideas. But it also serves as a Europe-wide and effective support mechanism for entrepreneurs and startups. Industrial as well as institutional stakeholders and more than 130 regional partners are strong assets of the ESNC network and award the winners of the different challenges with prizes valued at approximately EUR 1 million.
These prizes comprise a wide range including: cash awards, business incubation, business coaching, patent consulting, technical support, access to testing facilities, prototype development and marketing support, just to name a few. A recent study conducted by AZO – Space of Innovation – has shown that every second winner of the ESNC has the strong desire to start his or her own company.
Throughout the various challenges of the ESNC, which all have their own peculiar topic, manifold ideas are generated. At the same time this framework is used as an immediate and efficient scouting tool for incubators. Two of these specific challenges are put in the spotlight in the following paragraphs.
For more business and career opportunities, check our opportunities section and subscribe to our weekly newsletters.