Idea submission deadline: November 30, 2022
Prototype submission deadline: February 10, 2023
Product submission deadline: April 23, 2023
👉 APPLY NOW 👈
Eligibility: open to teams from all EU Member States plus Switzerland, Norway and Iceland
Prizes: a total prize pool of nearly EUR 1 million & support during the entire innovation cycle
Are you an innovator working on commercial solutions?
Do you know how to leverage EU Space data into a successful application?
Unleash your creativity and get funding to take your space-powered idea to market with:
myEUspace Innovation Competition 2023
Following the last year's successful edition, the EU Agency for the Space Programme (EUSPA) launches its third annual #myEUspace Innovation Competition.
It is an opportunity for a new cohort of innovators to get funding and support in turning their ideas into reality. Will you be one of them? 🚀
Last year, 54 teams embarked on a mission to disrupt the European market.

🏆 Get inspired by the projects submitted myEUspace Innovation Competition 2022 finalists!
EUSPA provides safe and secure European satellite navigation services. It offers free access to data collected via Galileo, Europe's Global Navigation Satellite System and Copernicus, the EU's Earth observation programme.
The data and signals collected thanks to these programmes can be used to develop various innovations, from mobile applications to hardware-based solutions.
Are you ready to take up the challenge?
myEUspace Innovation Competition invites you to disrupt one of the three targeted innovation areas: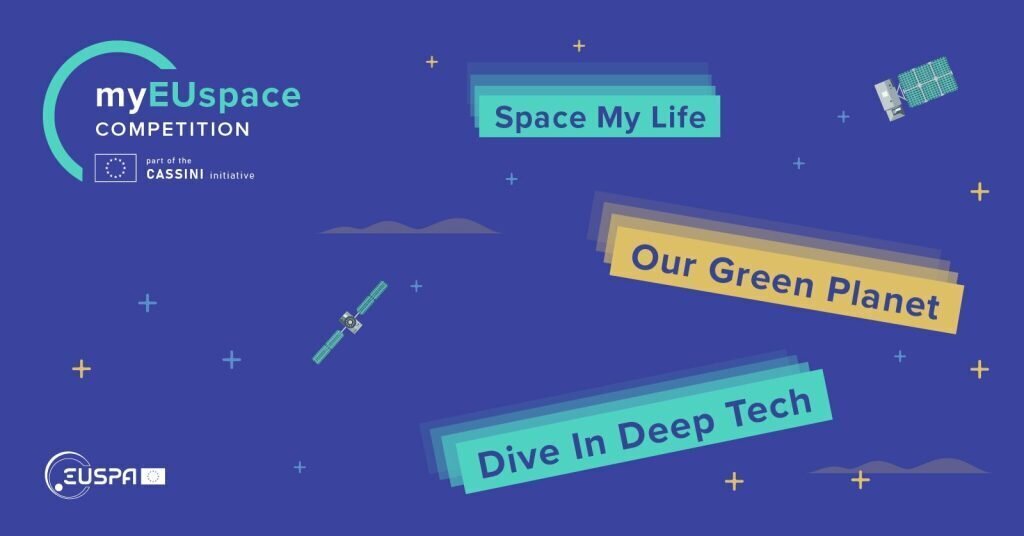 🦾 Space My Life: consumer solutions like mobile applications, wearables (smart watches, smart glasses, fitness trackers, etc.), drones or robotics that address major societal challenges in focus areas such as health, citizen safety and security, gaming and entertainment, sports and fitness, and tourism.
🌲 Our Green Planet: solutions addressing environmental challenges and sustainable life and that contribute to the implementation of the European Green Deal, as well as solutions that aid the green transformation of corporations. The proposed solutions must address major societal challenges in focus areas such as the conservation of ecosystems, green mobility, sustainable agriculture and the management of energy and resources.
⚛ Dive in Deep Tech: welcomes solutions that combine EU Space data with deep technologies like AI, quantum, blockchain, the metaverse and extended reality. The proposed solutions must address major societal challenges in focus areas such as biotech, medtech and fintech.
Pitch your solution and win a share of one million euros
With one million euros at stake, myEUspace Innovation Competition attracts European entrepreneurs, innovators and startups.
The battle concludes on Entrepreneurship Day, where the finalists pitch their solutions to a panel of jury. It is also an opportunity to get additional visibility among the international audience.
Take a look at the highlights of this year's Entrepreneurship Day, which took place in Prague:
myEUspace Innovation Competition 2023 welcomes ideas, prototypes and products
Depending on the maturity of the solution at the time of application, you can compete and win in three different prize tracks:
💡 Best idea: encourages promising theoretical ideas that leverage EU space data and have high market potential. The best 15 ideas will receive a cash prize of EUR 10K each.
⚙️ Best prototype: for tested prototypes or beta versions ready to be brought to market. The 10 best prototypes will receive a cash prize of EUR 30K each.
🤖 Best product: for existing commercial products looking to scale-up. The 5 best products will receive a cash prize of EUR 100K each.
The deadlines vary for each track, and you can apply for all three with the same solution to win additional prizes!
⏳ Hurry up to submit your idea, as the first deadline passes on November 30, 2022!
---
For more life-changing opportunities, subscribe to our weekly newsletter and follow us on Twitter, Facebook, Instagram and LinkedIn.