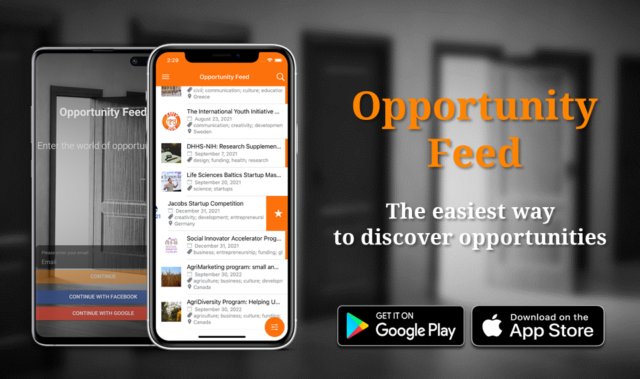 This day has finally come. After years of carefully collecting our users' and partners' feedback, our team at AlphaGamma is thrilled to reveal the second edition of our mobile app: Opportunity Feed.
(happytrumpetsounds)
Our mobile app is designed to help you discover career, business and personal development opportunities in any part of the world.
Opportunity Feed is all about opportunities: scholarships, fellowships, mentorships, internships, grants, funding options, competitions and more.
Especially at extraordinary times like today, such opportunities can improve our lives forever.
In the new version, we've improved the quality and diversity of opportunities, added new filters and made it simpler to share your favorite opportunities with your friends.
Opportunity Feed was created with one main goal: to help young professionals, founders, and students find international career, business and professional development opportunities, in one mobile app.
If you know of any opportunities or you host your own that could be featured in the app, get in touch with us via the contact form.
Here's the complete list of our app's features:
🎁 Free forever
The app is free to use. You can get it on your favorite device just in a matter of a click.
🎨 Intuitive design
Scroll through the vast choice of opportunities, choose the most appealing ones and see detailed info right there, carefully prepared for you.
✔️Use filters
Narrow down your search by filtering opportunities to see only the ones of your interest.
📝 Quick to apply
Many opportunities have strict application deadlines. Discover your favorite events early and have enough time to prepare an outstanding application.
⭐

Favorites
Mark your favorites opportunities to easily return to them at any time.
🔔 Notifications
Get notified when new opportunities are available.
📱 Cross-platform
Designed to work on smartphones and tablets. No need to own the latest device – new opportunities are available to you right now.
Ready to enter the world of opportunities? Get our app on App Store or Google Play!
Or check out our dedicated page about our mobile app.
How do you like Opportunity Feed? We can't wait to hear your thoughts about the new version and how we can make it your most favourite app. Leave us a comment on Google Play, App Store or in the section below!