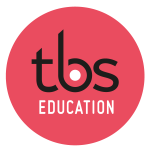 Deadline: November 21, 2022 23:59 CET
[Oops, the opportunity has already expired. Sign up to AlphaGamma weekly newsletters to stay ahead of the game]| Apply now
Eligibility: you must hold a bachelor's degree or equivalent and have a significant first professional experience of at least five years, OR a master's degree or equivalent and have a professional experience of 3 years.
Tuition: face-to-face (Core Modules/Leadership modules) and @nline (Process Workshops and Specialized Tracks).
Languages: English and French tuition – each delegate may pick either/or.
Locations of Process Workshops and Specialized Tracks: Toulouse, France; Barcelona, Spain; Casablanca, Morocco; Ottawa, Canada; Paris, France; and Brussels, Belgium.
Are you looking to learn skills and get hands-on experience that will make you a great decision-maker and a recognized Leader?
Would your career benefit from the knowledge and expertise of the experts from the top business school?
Secure your spot and get the Global Executive MBA at TBS Education!
Since 1903, TBS Education has been employing top-notch researchers working closely with top-level and middle-level managers to share best practices and advice and prepare you for the future.
The program starts in November 2022 and alternates between online, on-site classes and visits to the international partner companies for a truly immersive experience.

This high-end program is for you if you are looking to boost your employability and strive for executive positions worldwide
TBS Education designed its Global Executive MBA not only to equip you with the knowledge and skills but also aims to spark creativity, inspire and empower you to gain confidence in yourself and your future.
With TBS, right from the beginning of your Global Executive MBA, you may select either Strategic Management or Aerospace to validate your degree. Those specializations will certainly make a big difference on your CV, as they are unique in the EMBA world.
Well-known experts will put their professional experience and network at your service!
RECOMMENDED: 🌍 9 ways to fund your studies abroad in 2022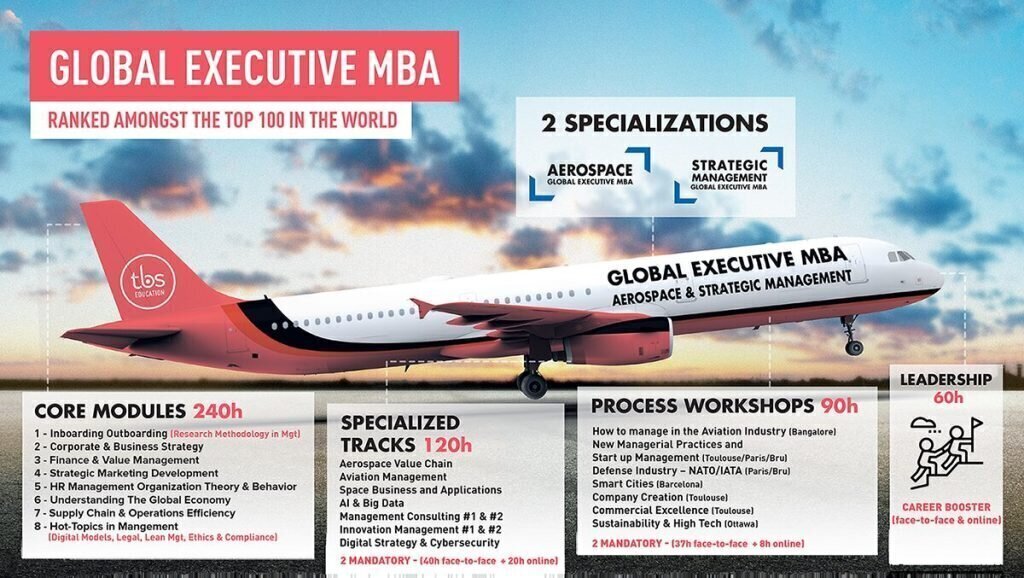 TBS Education conducts the research activities in 5 dedicated labs that study all aspects of management as well as contemporary hot topics.
Combining a 360° vision with cutting-edge specialization, TBS Global Executive MBA ensures your career progress. Thanks to this program, you will grow personally and professionally.
TBS Education: a runway for your career in the aviation and space industry
Toulouse is proud to be the world capital of aeronautics, offering plenty of opportunities to kickstart your career.
The Global Executive MBA is your golden pass to landing a job in the Aerospace Valley, the largest labour pool within the aviation and space industry. The skills you acquire during the program will allow you to spread your wings in the ecosystem fostering innovation.
The turbulences caused by the COVID-19 pandemic have been settling down, uncovering new opportunities arising in the industry. Airbus' and Boeing's global market forecasts show that passenger traffic could return to a pre-pandemic level between 2023 and 25 and grow an average of 3.9% annually between 2023 and 2040.
Assess your strategy for success with a Strategic Management specialization
Select a cutting-edge specialization in Strategic Management to sharpen your expertise in pioneering skills that solidly prepare you to tackle tomorrow's challenges.
You will get equipped with the skills desired by the top companies worldwide, and your chance to land a job will skyrocket.
This specialization includes high-level professional experience through real-life case studies from prestigious international companies. You will work on practically designed topics with fellow delegates from across the globe.
Meet people that will help you advance your career forward
🤝 Build a professional network among TBS Education's 250 partner companies
👩‍💼 Join the TBS Alumni Network, consisting of CEOs, managers and professors from 150 internationally recognized partnering institutions, for endless inspiration
🚀 Take advantage of the TBS CAREER BOOSTER that combines managerial tests, dedicated coaching sessions and customized workshops to maximize your professional evolution and reach your leadership potential
📈 Master the skills desired in every company in the world that will allow you to land a job or kickstart your own successful business
Is TBS Education the right place for me?
TBS Education is among the top schools globally recognized in a competitive business education landscape.
GEMBA is recognized among the top 100 Business Schools worldwide by Financial Times. 
Since 2018, TBS' Global Executive MBA has ranked among the top 100 globally.
Its mission, quality of education, faculty qualifications, and social impact was assessed to ensure the school meets the highest excellence standards.
TBS is proud to be among 1% of business schools awarded the triple crown of international accreditations for the fifth time:
EQUIS European Accreditation since 2001
AMBA International Accreditation of MBA programs since 2002
AACSB International Accreditation since 2003
An enriching experience that will improve your life quality
Hear what does alumna Farzaneh Mohajer, Marketing & Communications Manager in ECA Group, have to say looking back at the program:
Immerse into the charming La Ville Rose
Toulouse is the second-largest university centre in France, known as La Ville Rose, the Pink City. With a reasonable cost of living and low crime rate, Toulouse is ranked the second best city to live and study.
The region offers plenty of opportunities to unwind after a week of classes. The capital of the Midi-Pyrenees region lies close to the Balearic Sea, the Atlantic ocean, the majestic Pyrenees mountains and the Spanish border, so you may want to start planning your weekend getaways already.
If you are an art, history and culture enthusiast, you will love the Vieux quartier, medieval faubourgs, churches and museums. Toulouse is known for its vibrant nightlife as well as many parks and the Garonne river, where you can study and chill surrounded by nature.
Are you ready to take off with your career? Don't miss your chance and apply for the Global Executive MBA at TBS Education and take control over your future!
---
For more life-changing opportunities, subscribe to our weekly newsletter and follow us on Twitter, Facebook, Instagram and LinkedIn.