Deadline: June 30, 2022 23:59 CEST
[Oops, the opportunity has already expired. Sign up to AlphaGamma weekly newsletters to stay ahead of the game] | Apply now
Eligibility: if you have a Bachelor's degree and are interested in broadening your economic, political and social knowledge, you're welcome to apply
Location: Vienna, Austria
Are you ambitious enough to address current issues and introduce positive change?
Are you looking to gain the skills and tools you need to make a real difference in today's world?
Now more than ever the world needs changemakers just like you!
🗣️ Get Your International Relations Degree at Webster Vienna Private University and Let Your Voice be Heard
Webster Vienna Private University (WVPU) invites students from all over the world who want to gain a broader perspective of the social, political and economic world around us to join its International Relations Master's Program.
The program was carefully designed to equip new generations of young leaders with the knowledge and skills they need to help make the world a better place for all. WVPU's faculty members of various nationalities will help you broaden your perspectives on global issues and prepare you to communicate your informed opinion and insights effectively.
The Master of Arts in International Relations prepares you to assume leadership positions and responsibilities in the public and private sectors.
You will get the necessary qualifications to navigate through the peculiarities and complexities of international politics, diplomacy and foreign policy to advance their cause and benefit the public good.
Which Career Path Will You Choose?
We know that it's passion that brings you to pursue International Relations. But are you aware of the rewarding career paths you can take after getting your Master's degree?
This program will open doors for work with a governmental agency, an intergovernmental organization, a nongovernmental organization, or a multinational corporation. There is a high demand on the market for the skillset you will develop during the course of study.
Here are a few jobs and average salaries per year (in Austria) that International Relations graduates pursue:
Why Webster Vienna Private University is Your Best Choice
During your Webster experience, you will examine great powers' politics, humanitarian issues, and the dynamics of the international political economy, learning how to employ competing theories, methods, and approaches.
Since 2001, Webster Vienna has been accredited by The Agency for Quality Assurance and Accreditation Austria (AQ Austria) as an Austrian Private University.
Located in the beautiful Palais Wenkheim, the WVPU campus has a great study atmosphere with its well-equipped classrooms, a library, a computer lab, a cafeteria, staff offices and more.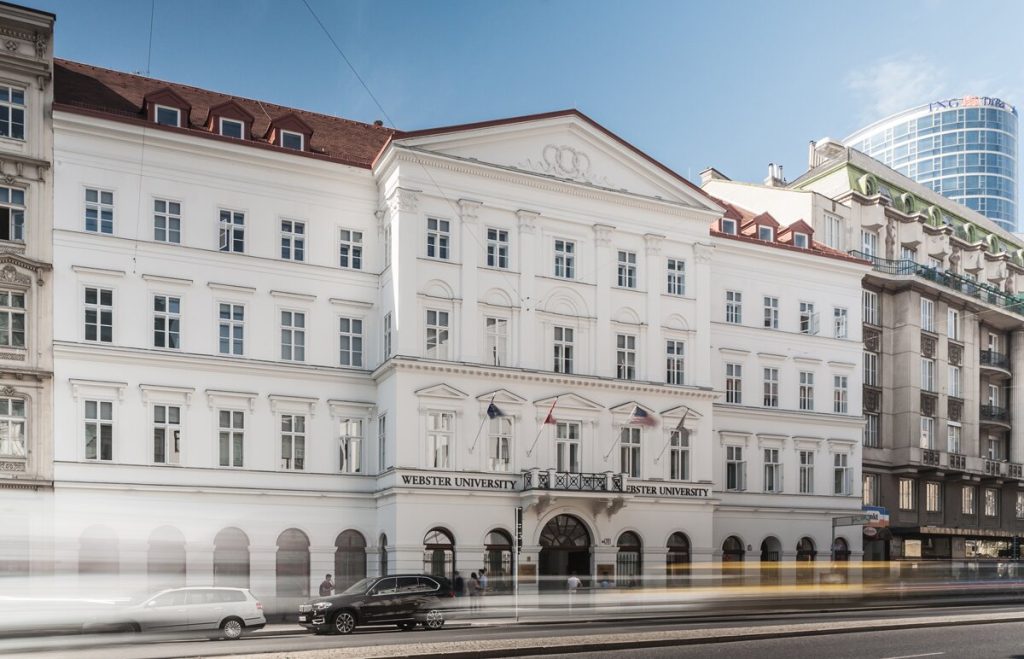 Curious how life on campus is like? Check out the gallery below.
Life at Webster University
💌 Have more questions about the program, admission or other opportunities offered by Webster University?

Giulia, Selyn or Ana at the admission office will be happy to answer all your questions!
📖 During your studies, you have the freedom to explore relevant topics you want to specialize in, such as international law, terrorism, and European integration
🧑‍🎓Classes are taught in small groups to deliver a personalized educational experience

🧑‍🏫

WVPU prioritizes your education by working with a team of internationally recognized researchers, lecturers, and scholar-practitioners
👯‍♀️ You will make long lasting friendships with amazing people from all over the world
💃 A wide range of events and activities offered on campus provide an unparalleled academic adventure
Besides, studying and living in multicultural Vienna cannot be boring. Why is that? Read on.
Fulfill Your Potential in the City of Dreams
Vienna, the jewel in Austria's crown, is a capital city with much to offer. With its rich cultural heritage, breathtaking architecture as well as its many green spaces, high level of education and excellent medical care, Vienna has been voted the most livable city for many years in a row
Moreover, Vienna is the heart of international diplomacy. It is home to more than 40 international organisations, about 3,800 diplomats and more than 6,000 international officials.
The Vienna International Cente has hosted one of the 4 headquarters of the United Nations for more than 40 years. Can you think of a better place to experience international diplomacy and jumpstart your career?
Are you ready to change the world? Take the first step toward the future and secure your spot to study Master of Arts in International Relations at Webster University!

Feel free to ask more about the program in the comments below or send us an email!
---
For more life-changing opportunities, subscribe to our weekly newsletter and follow us on Twitter, Facebook, Instagram and LinkedIn.