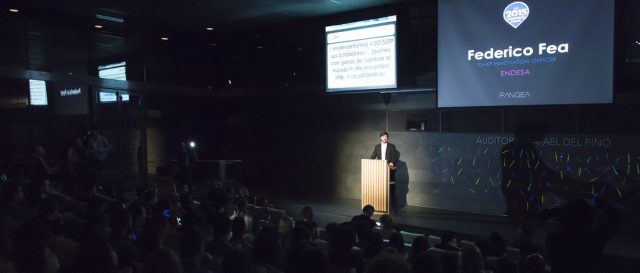 Deadline: April 1, 00:00h GMT+1 (Madrid time) | Apply here
[Oops, the opportunity has already expired. Sign up to AlphaGamma weekly newsletters to stay ahead of the game]
Eligibility: Age between 16-25
Date: June 8-10, 2016
Price: €49 (VAT included) Price includes full access to Unleash, meals & snacks for three days, welcome pack, access to in-event promotions, early access to Pangea+ and more!
Location: Madrid, Spain
Today's youth generation is capable of achieving the impossible! #Unleash2016 arrives at the heart of the Spanish capital – Madrid – this June with its first edition, organized by the youth association Pangea.
Unleash is a 3-day event focused on awakening your inner potential.
Aiming to become the world's most unconventional meeting of youth talent, Unleash is going to absolutely redefine what a youth gathering means. The ultimate purpose of the conference is prove to the world that the youth is here to make a difference through the unleashing of each of the 400 attendees' inner geniuses who will be awakened with amazing speaker appearances among world-recognized young leaders, an energy-packed festival, and lots more.
No CVs or any academic/education requirements, all you need is the right attitude, passion, and determination! Those who say they can and those who say they can't are both usually right. Where do you stand?
AWAKEN+EMPOWER+CONNECT the potential of today's generation
Pangea was born as a response to an increasingly interconnected and diverse world where the majority of young people lacks opportunities, and initiatives that would enable them to realize and complete  their dreams.
Ultimately, youth should not be judged by their age, but by their potential to make an impact in the world, and under this belief Pangea acts as the connection between young people and connects them with an extraordinary set of initiatives and opportunities.
The youth is unconventional and  it doesn't conform the common practices.
Rather, in its greatest moments, the youth reinvents mainstream into something different, exciting and unpredictable. Perhaps the excitement for change from time to time can fade away but you can always feel it there… rooted in young passion. Occasionally, it may take a show to revive it, and this is why UNLEASH is here: to celebrate young energy and dynamic in the form of a revolutionary experience.
UNLEASH will change the way you become inspired, its purpose it to make you feel limitless, ready to take on mission impossible. Be prepared to unleash a passionate, ambitious and daring part of yourself you never even knew existed. Don't be afraid to release your inner rebel as a representative of this generation's potential.
Unleash will not be a traditional event. Halfway between a conference and a show, Unleash will combine inspiring talks with impressive displays of talent, an eventful networking space with mind-blowing performances and impactful potential revealing moments.
You can't hide your potential anymore. Unleash it.
Unleash will start by casting a light on the international guest speakers, some of the most exceptional young personalities of our generation All under 25 years old, will be sharing their sensational stories and experiences in an authentically captivating performance which will let you envision what you as a young individual are capable of doing and persuade you to follow your dreams. Panels revolving around topics such as potential, talent and creativity will take a central part of The Show.
The Onstage Performance Series will be one of the greatest surprises during UNLEASH. Far from the traditional workshop model, UNLEASH will maximize the experience through impactful moments that will require all of your attention to ultimately enable you to project yourself into the future as a change maker.
The Festival is where the young, curious and dynamic community will have the opportunity to interact and connect, equivalent of a networking area designed to foster interaction and the sharing of thoughts and impressions between the attendees.
This area, unlike any other networking place you've ever been to, has been specially re-imagined to fit UNLEASH's spirit and purpose. The Festival will be full of live entertainment, an energetic yet cool atmosphere and will bring you the opportunity to explore, discover and participate in the coolest activities as a great generation!
During Unleash there will be introduced the first edition of The Pangea Awards, a set of incredible recognitions created to honor significant achievements attained by young, passionate, and determined individuals within our own generation. It takes courage to be young, and transforming the challenge into an opportunity deserves to be rewarded.
The world is now yours. Explore it.
Please read the Terms & Conditions here.
For more business and career opportunities, please check our opportunities section and subscribe to our weekly newsletters.