Part of the AlphaGamma team got a chance to attend Web Summit 2016, the largest Europe-based tech event. The Web Summit conference first started as Tech Summit back in 2010 in Dublin, attracting around 400 attendees. This year, it was held in Lisbon greeted 53,056 people from 166 countries.
This has been the largest startup event that the AlphaGamma team has attended to date. You could feel an upbeat vibe of a large event happening in town: even the Lisbon Portela Airport offered free WiFi, sponsored by Web Summit. Definitely a very welcoming gesture for the Web Summit attendees.
Impressions from Web Summit 2016
Judging by the involvement of the government at the event – for example, a recent announcement to offer 200 million euros to Portuguese startups – shows that Portugal has the ambition to become an attractive place for startups. While Lisbon is currently the fifth most favourable city for startups, according to European Startup Initiative, Portugal is still lagging behind the United Kingdom and Germany in terms of "scale-ups" and "exits", with its GDP being 12 times smaller than the U.K.'s and 16 times smaller than Germany's.
Portugal has already struck a partnership with the organizers to host the next 2 editions of the tech event, and the government officials have already hinted that they are willing to prolong the agreement as the event supports the local economy. This makes Web Summit strategically important to any city that wants to improve the attractiveness of its startup ecosystem.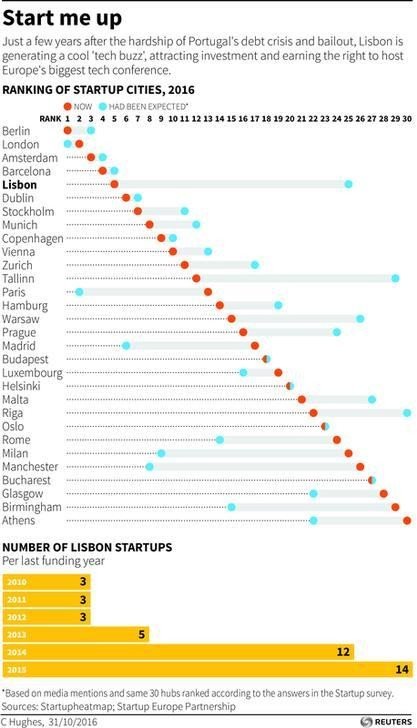 We got an impression that Web Summit has become a supermarket for startups –  as the event has grown in size, it offers a huge variety of topics, activities, and networking throughout 3 days. Workshops, speeches, roundtables and startup competitions – all happening at the same time. The topics and trends
Web Summit  2016 Trends

Based on the top 50 most popular startups among investors at Web Summit, the following industries were the most in-demand among investors:
1. FinTech
2. AI
3. SaaS
Because there are so many things going on, one might feel overwhelmed during the conference. As a startup, you might want to prepare your game plan in advance, as, for example, Cuckuu, one of the pitch competition finalists suggests to other startup founders. With smaller scale events, you might not have to prepare in advance, except preparing your startup pitch. Because in 1-2 days you would have enough time to meet 50-200 attendees and establish deeper connections with those who you want to cooperate with.
We do share the opinion that you need to come to Web Summit prepared:  you need to plan your stay in Lisbon in advance. You need to know who exactly you want to meet, what talks you want to attend and what you want to get out of the conference. 2 weeks before the event, just screen through the attendees' list available on the website and in the app, select the persons you want to meet and send intro emails.
Yet, because the event is so large – with tens of thousands of people under the same roof – we could feel that some of the attendees felt a bit lost. Yet, we found it was quite easy to set up meetings and network with other attendees. If we felt we have a gap in our schedules, we would approach them via the app and arrange a meetup.
We found that the Web Summit app was very convenient to use – probably one of the best event apps we used till now. What we would recommend is to be able to have a complete list of attendees available on the phone, too – so we could discover more attendees who share the same interests in industries or represent companies that we would like to learn about.
It was intriguing to observe how startup founders utilized their company booth – some were actively engaging with passer-by's and had a crowd gathering around them, while some expected visitors to come to them and thus did not interact with passing people as much. It is obvious which one of these approaches resulted into generating more leads.
Web Summit 2016 Stats

1,300+ investors  and 1485 startups at different stages in their development growth attended Web Summit: 135 from START (startups that raised over $3M+ in funding or in revenue). 270 from BETA (the growth-stage track), and 1,080 from ALPHA, the early-stage track.

Out of the top 50 most demanded startups among investors, START startups account for 27 of the top 50, while 17 are ALPHA and 6 are BETA startups.
Our colleagues from Irish Central noticed that startup booths, investors, and executives are meeting at different locations, which barely overlap. While we observed this as well, it seems to be working well for startups that are determined to meet the right people.
As for the presentations, there were more than 10 stages – including the Centre Stage – filled with talks from the C-level executives and prominent entrepreneurs, ranging from topics like robotics, VR & AR, FinTech, SaaS, digital marketing, IoT, automobile and more. There was something for everyone, and the diversity of represented industries proves the statement that Web Summit is the largest tech event in Europe.
We got a chance to ask Dave McClure, 500 Startups founder, to get his take on the VC landscape:
"We are trying to be present in different regions as the startup talent is everywhere. We believe that Asia has the most potential and it has shown the largest growth for us".
When described how their approach is different from other accelerators, Dave mentioned that aggressive branding to establish a stable deal flow is the most vital ingredient. "Then we pick startups, we 50-80% wrong, and we exit at a 1.something multiple if a startup proves successful." Yet, once the right startup is selected, the magic happens.
Gary Vaynerchuk, a prominent entrepreneur, joined the stage of Web Summit to share entrepreneurial motivation with budding entrepreneurs in his straight-forward and fair manner. "To succeed as an entrepreneur, there are 2 things you should accept: 1) this is the best era to be an entrepreneur and 2) you are going to stop whining and complaining because nobody gives a f***", concluded the VaynerMedia founder.
During the conference, we asked our readers to share with us questions that they would like to ask the successful entrepreneur. The most frequent question we received was:
How can a 20-something decide whether to start a business or join a corporation?
While the press conference with Gary, unfortunately, got canceled, we found the answer to this question in his YouTube series #AskGary (starts at 06:50).
---
To sum up, Web Summit is a great networking platform and it offers opportunities to meet with investors and C-level executives from corporations, who might potentially become your clients. It is truly a supermarket for startups. Yet, because it has grown so large, we would recommend preparing for the conference in advance.
How was your experience at Web Summit 2016? Did you get what you expected out of the conference? Let me know in the comment section below.
For more business trends, check our entrepreneurship section and subscribe to our weekly newsletters.