AlphaGamma Startups Overview is a monthly overview that attempts to identify promising startups that have the potential to make a difference in their industries.
Do you know or run a startup yourself we should look into? Contact us or fill in the form here.
Here are our picks for October 2019.
AlphaGamma Startups Overview: October 2019
---
Founders: Stefania Abbona, Pierluigi Santoro
Website: http://thealgaefactory.com/
Corporate email: info@thealgaefactory.com

Swedish Algae Factory is the winner of Postcode Lotteries Green Challenge 2019
Swedish Algae Factory is the only company in the world that cultivates the microalgae group diatoms and sells their high-tech silica shells.
These shells have unique light manipulating properties unmatched by synthetic materials that can be utilized to enhance the efficiency of solar panels with at least 4%.
The material can also be utilized as a sustainable personal care ingredient. In the production process of the material carbon dioxide is absorbed instead of released. Customers that purchase this material will also contribute to reducing eutrophication and a healthier food supply chain by recycling of the life-sustaining nutrients nitrogen and phosphorous.
---
Founders: Yan Cui, Zheng Kuan
Website: www.4dage.com/en/
Corporate email: zhengkuan@4dage.com, matteo_pallotta@4dage.com

Founded in 2014 in Zhuhai, 4Dage specializes in the application of artificial intelligence in the field of 3D reconstruction and digitization, focusing its core technologies on automated 3D Digital Reconstruction, High-Precision Machine Vision, Simultaneous Localization and Mapping (SLAM) and AI Computer Vision.
---
Founders: Giorgio Finzi
Website: www.4gifters.com
Corporate email: info@4gifters.com

4Gifters is a luxury e-gifting platform that enables consumers to send and receive gifts in different cities in the world. It's the only website that combines classic e-commerce with the exciting in-store shopping experience.
---
Adludio – the United Kingdom
Founders: Andy Williams, Howard Kingston, Jacques Kotze
Website: adludio.com
Corporate email: info@adludio.com

Adludio (formerly Future Ad Labs) is an award winning mobile advertising business on a mission to deliver the most engaging advertising in the world.
Adludio partners with international publishers to seek out those moments where people are most open to interacting with brands. By engaging consumers in a meaningful way, they help brands drive…
Adludio are creators of Sensory Ad Science, mobile-first technique that is changing advertising for the better. They take the best of learning science and combine it with data science to deliver brand experiences that are compelling, effective and memorable.
---
Advocado – the United States
Founders: Bob Koplar, Brian Handrigan, Jeff Linihan, RJ Jones, Sam Koplar
Website: www.myadvocado.com
Corporate email: info@myadvocado.com

Advocado is the AdTech platform for multi-screen advertisers, connecting multi-screen consumer journeys when it matters most; across Broadcast, OTT, CTV, Facebook, Instagram, Amazon & Google.
You know that moment when you're watching a TV commercial and decide to pick up your smartphone to search or learn more? Advocado makes it possible for advertisers to connect with you during that precise moment (or micro-moment) when you want to know, go, do, or buy something.
We do this by transforming TV into a real-time bidding engine for search. Advocado helps brands both quantify and increase the value of their advertising. Our patented platform ends the battle of TV vs. digital and enables brands to activate cross-channel marketing and achieve campaign performance improvements of up to 400%.
---
Arbe – Israel
Founders: Kobi Marenko, Noam Arkind, Oz Fixman
Website: www.arberobotics.com
Corporate email: info@arberobotics.com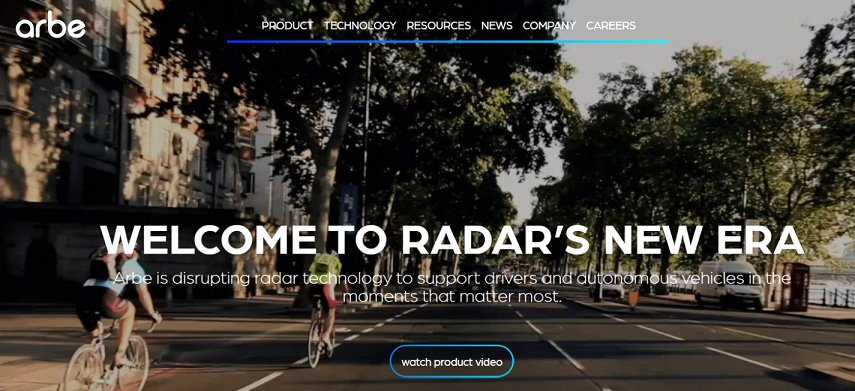 Arbe is building the future car's eyes and brain using a High-Resolution Radar enabling cars to "see" the environment in any weather and any lighting condition, to long, mid and short ranges as well as in any azimuth, elevation and Doppler. Our radar detects cars, motorcycles, bikes, and most importantly humans.
Arbe's radar, based on our proprietary chipsets, is a next generation of safety products for ADAS and autonomous driving, offering superior performance at a low cost, size and power consumption.
---
Check our previous startup overview editions:
---
For more startups and business tips, check our entrepreneurship section and subscribe to our weekly newsletters.