AlphaGamma Startups Overview is a monthly overview that attempts to identify promising startups that have the potential to make a difference in their industries.
Do you know or run a startup yourself we should look into? Contact us or fill in the form here.
Here are our picks for April 2019.
AlphaGamma Startups Overview: April 2019
---
Founders: Caleb Carr, Derek Sikora
Website: vitatech.co
Corporate email: vita@vitatech.co

Vita Inclinata Technologies is the winner of the Rice Business Plan Competition 2019 and was awarded prizes with a total value of nearly $700,000.
Vita is a dynamic company dedicated to developing critical technology for sling load & rescue helicopter operations.
Leveraging our system, helicopter operations are 2500% more effective as Vita is eliminating the deathly swing of suspended loads.
The Load Stability System (LSS) combines drone technology with control algorithms within a device that attaches 5 feet above the load. The LSS detects the exact position of the load to determine the direction of thrusts needed to mitigate the swing
---
Resonado – University of Notre Dame
Founders: Brian Cho
Website: resonado.com
Corporate email: info@resonado.com
Resonado is the runner up of the Rice Business Plan Competition 2019 and won a total of more than $300,000 in prizes.
Despite structural disadvantages, a speaker has continuously adopted a conical structure over the past century.
This structure is hindering product innovation in the recent market trend towards product miniaturization as evidenced in TV or laptop.
Resonado rethinks the core mechanism of how sound is produced thus introducing an efficient speaker design which enables a new form factor unrestricted by a previous conical structure yet having advantages in size, weight, cost, and sound quality.
---
Founders: Birgitt Boschitsch Stogin, Prof. Tak-Sing Wong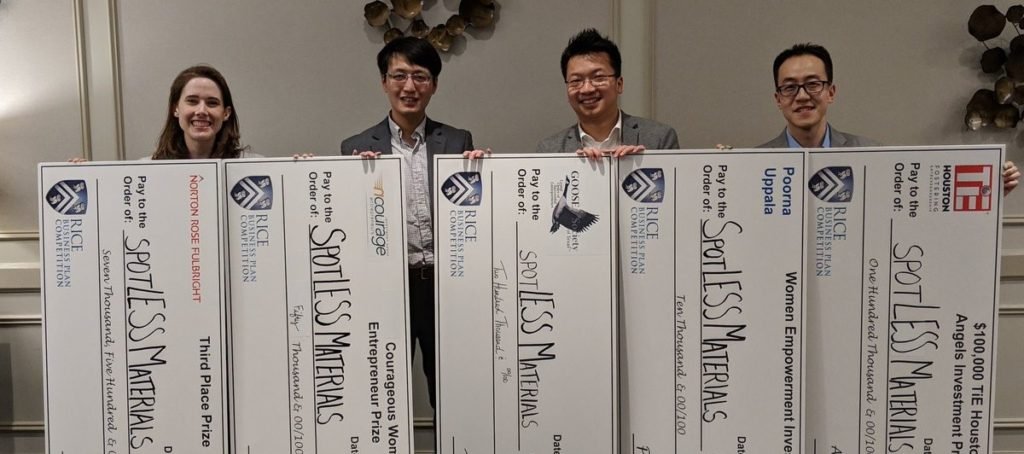 spotLESS Materials took third place in the Rice Business Plan Competition 2019 and was awarded more than $360,000 in total prizes.
"Sticky problems" are ubiquitous and have negative consequences across industries from sanitation (e.g., foul odors) to marine (e.g., barnacles causing fuel inefficiency) to automotive (e.g, sensor unreliability in snow/mud) and beyond.
spotLESS Materials have developed a robust bio-inspired, liquid-, sludge-, and bacteria-repellent coating that can be applied in minutes in ambient conditions. This coating can transform sticky surfaces into self-cleaning ones.
---
Rhaeos – Northwestern University
Founders: Amit Ayer, Siddharth Krishnan
Website: rhaeos.com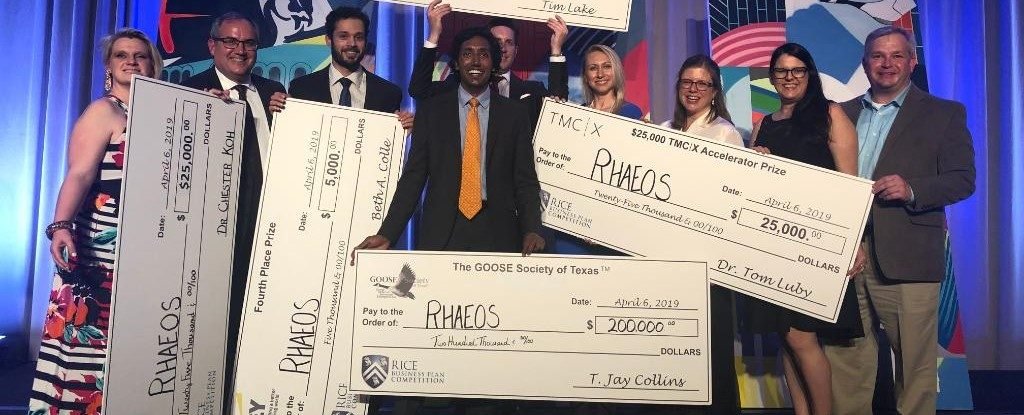 Rhaeos took fourth place in the Rice Business Plan Competition 2019 and was awarded more than $450,000 in total prizes.
Shunt failure is a common issue for patients with hydrocephalus, where implanted tubes in the brain become blocked or obstructed.
Current diagnostics expose patients to harmful radiation, painful tests and expensive imaging with poor accuracy.
Rhaeos provides a wireless, wearable flow sensor to replace or augment costly and ineffective traditional shunt diagnostics. In this way, harmful radiation and painful testing can be replaced for a soft, band-aid like device.
---
Zilper Trenchless – Massachusetts Institute of Technology
Founders: Daniel Zillante, Roberto Zillante
Website: zilpertrenchless.com
Corporate email: info@zilpertrenchless.com

Zilper Trenchless took fifth place in the Rice Business Plan Competition 2019 and won more than $435,000 in total prizes
70% of the cost in a water pipeline project is directly related to the excavation needed to lay a pipe underground
Zilper Trenchless will significantly reduce the cost of infrastructure by developing new technologies in what is typically a very traditional field.
---
BrewBike – Northwestern University and University of Chicago
Founder: Lucas Philips
Website: brewbikecoffee.com

BrewBike was awarded sixth place in the Rice Business Plan Competition 2019 and won more than $100,000 in total prizes
On college campuses, it's too hard to get great coffee easily.
BrewBike provides college communities with delicious coffee in the most convenient ways, every day.
---
CataLight – University of Waterloo
Founders: Ashley Keefner, Kevin Dang, Vishal Vinod
Website: catalight.ca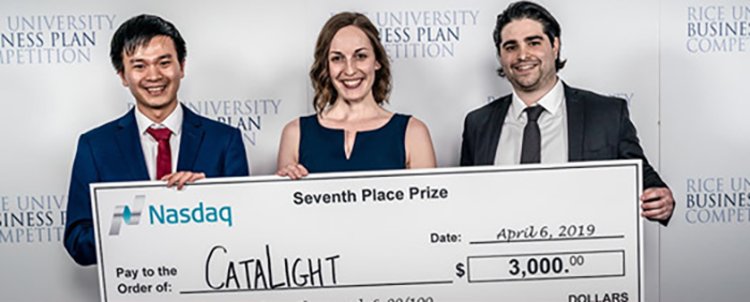 CataLight was awarded seventh place in the Rice Business Plan Competition 2019 and won more than $140,000 in individual prizes
2.1 Billion people do not have access to safely managed drinking water. Commonly implemented treatment methods are difficult to use, have harmful effects on health, and are not effective enough to keep people safe.
CataLight filters remove contaminants from drinking water for families in developing communities. Incorporating proven electrochemistry into an intentionally simple design our filters are effective, easy to use, and have no maintenance required.
---
Founders: Mathieu Gerard, Mederic Morel
Website: www.mapwize.io
Corporate email: contact@mapwize.io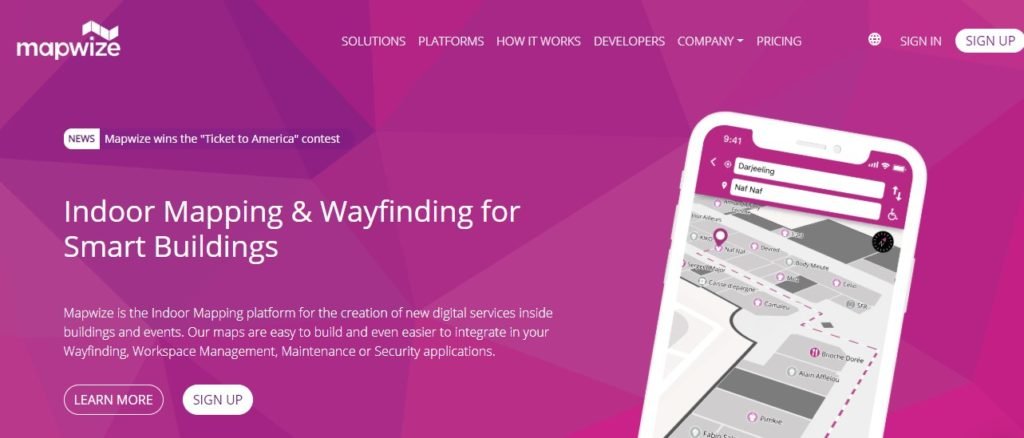 Mapwize is an indoor mapping platform for guiding people inside every building. The platform offers various benefits, including improved visitor experience, precise directions across multiple floors and multiple buildings, customized maps, restricted access to confidential information, and more.
Mapwize's back-office, the Studio, is able to process the most common building file formats such as Autocad or GeoJSon. This way the overall floorplan import process is rapidly executed even by non-specialists.
Once existing floorplans are imported, the Studio provides all the necessary tools to add data and customize the maps. This includes but is not limited to: Universes, Points-of-Interest, Directions, Languages. Changes and updates are propagated in real-time on the platform.
---
Founders: Louis Frade
Website: www.mobrand.com
Corporate email: corporate@mobrand.com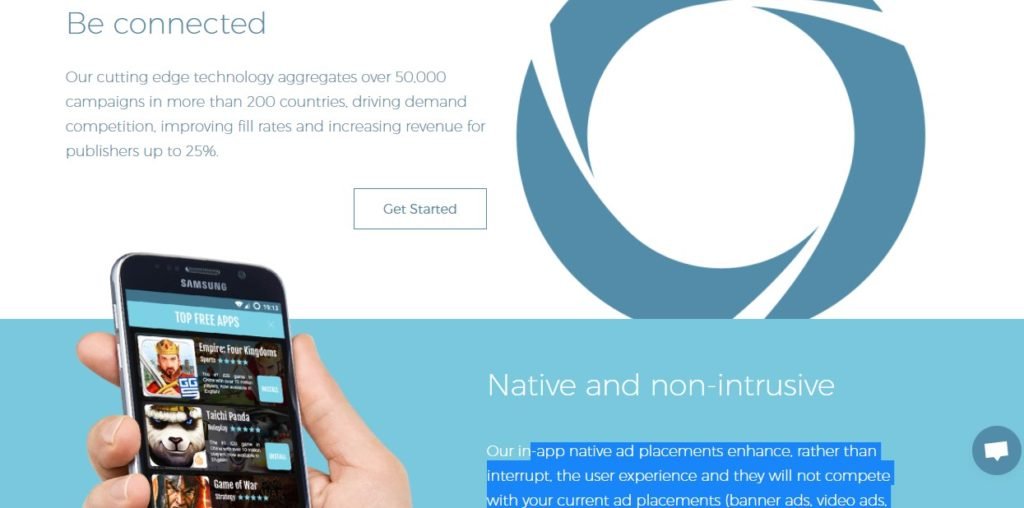 Mobrand is a leading solution provider in the mobile ad:tech industry.
Our cutting edge technology aggregates over 50,000 campaigns in more than 200 countries, driving demand competition, improving fill rates and increasing revenue for publishers up to 25%.

Our in-app native ad placements enhance, rather than interrupt, the user experience and they will not compete with your current ad placements (banner ads, video ads, interstitials or others).
---
Founders: Fabian Silberer, Marco Reinbold
Website: www.sevdesk.com
Corporate email: info@sevenit.de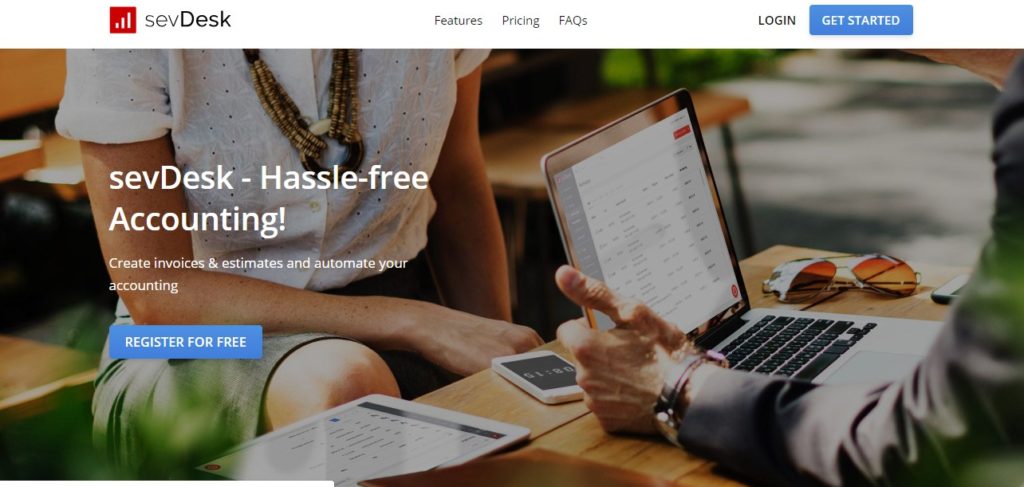 sevDesk is a personal CFO for small businesses. It will help you to do accounting, banking, invoicing and will give you real time insights
With sevDesk, you can digitally file your documents easily and clearly. Our accounting software automatically creates a revenue-surplus invoice for you. Even provisional VAT returns can be easily created directly in sevDesk.

You can create invoices and estimates with the sevDesk accounting program easily and intuitively. You can print out your invoice with just one click, send it via e-mail or directly forward it through an interface to the Post.
---
Founders: Carl Wilson, Joel Jakobsson, Lukas Gratte
Website: www.trustly.com
Corporate email: info@trustly.com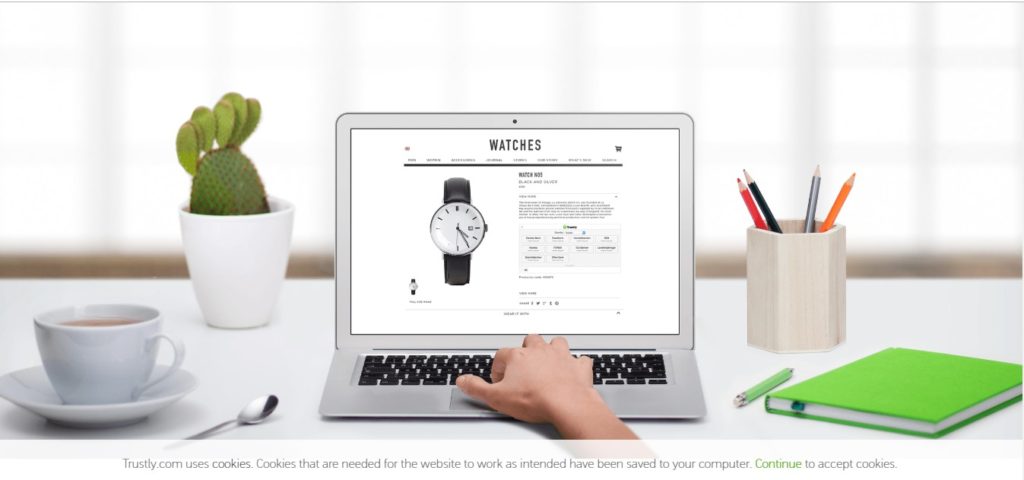 You don't have to register to use Trustly and we never store any information that can be used to access your bank account. Trustly uses the highest encryption standard available, in addition to the banks' security system.
Trustly Group is a Swedish fintech company founded in 2008. The company provide a solution for Online Banking ePayments (OBeP) offering solutions for the e-commerce industry through its direct payments technology. Trustly provides its service through PayPal and TransferWise.
To make a purchase, the customer is required to pass their banking credentials to Trustly, who performs the transaction on their behalf. Trustly accepts most credit and fraud risks, and the online store or consumer is guaranteed payment
---
Founders: Mikael Kreuger, Ted Sahlström
Website: www.match2one.com
Corporate email: info@match2one.com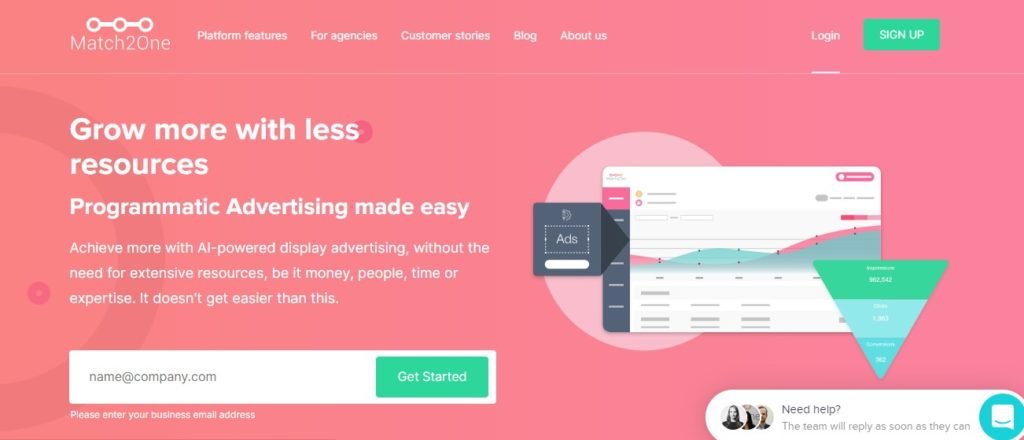 Match2One is democratising programmatic advertising by offering SMBs an easy and effective way to run AI-driven display ads globally
Match2One helps you find new customers online, by placing ads across 1000's of relevant websites in front of people who are likely to become your next customer.

By connecting Match2One to your website, the platform will automatically learn about your online audience – where to find new customers online, and target people who have visited your site.

You can sit back and relax, Match2One's optimisation engine will automatically make intelligent choices for you.
---
Founders: Alessandro Petazzi, Claudio Bellinzona, Fabio Zecchini, Paolo Giulini
Website: www.musement.com
Corporate email: info@musement.com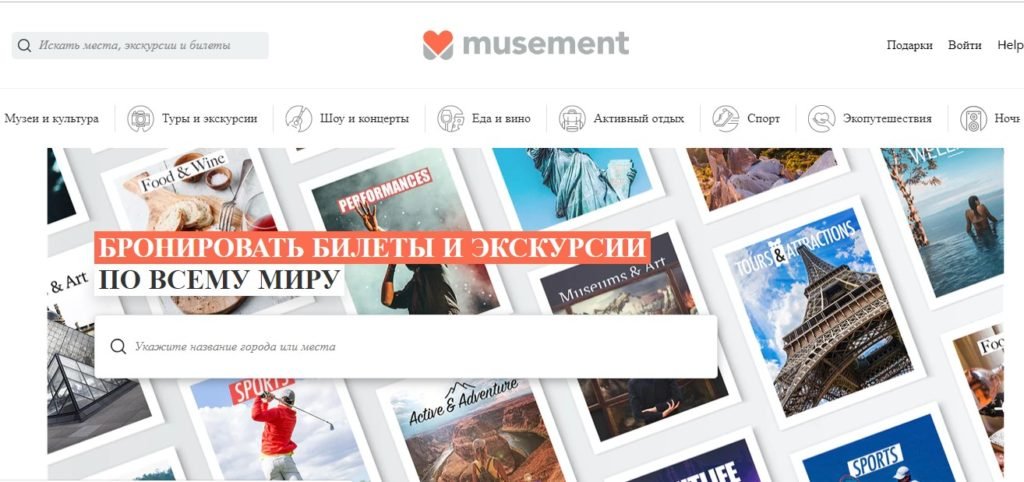 Musement is an online platform for activities, tours, museums, shows and art events which launched in March 2014 a service initially focused in Europe and then progressively expanding to the rest of the world.
Musement aggregates third-party activities and tickets for users to book online. Tour suppliers have access to upload and manage various activities through the platform. The company's offers are available via website, iOS and Android.
Once a customer books an activity, he or she receives a digital voucher or e-ticket for the reservation which can be saved on their device or printed. The headquarters are located in Milan.
---
Founders: Diego Chorny Benegas, Guillermo Lobos Pasman
Website: www.trialpanel.com
Corporate email: info-france@trialpanel.com

ShopAdvizor is the first collaborative community that interconnects people, brands and retailers in the consumer goods arena.
Strategic partnerships with top worldwide retailers and brands, allow us to develop a new and efficient collaboration model where people can try new products for free in exchange for sharing their opinion and content generation.
The continuous interaction between all stakeholders creates a unique ecosystem that integrates digital and real life experiences generating:
Valuable insights and information that help address key business challenges in the most cost-effective way;
User-generated content and brand content that allows brands to extend their reach, amplify their marketing activities and manage their brand image.
This new dynamic, enables brands to develop a valuable social relationship with their consumers, actively participating in the conversations with them in a social space that brings all brands together.
---
Check our previous startup overview editions:
---
For more startups and business tips, check our entrepreneurship section and subscribe to our weekly newsletters.