What is Influencer Marketing?
Influencer Marketing or Influencer Outreach Campaign is a marketing strategy that marketers and advertisers use to get in front of their potential consumers by means of the content and influence generated by influencers.
Influencer marketing is a form of marketing in which brands and marketers focus on specific key individuals rather than markets or audiences. Typically, influencers use channels such as blogs, video blogs, and micro-blogs to engage and communicate with their followers.
People believe a story when it is shared by someone they know, admire and trust. In other words, influencers are people who can tell your story to your audience on social media on your behalf in a more impactful way.
Thus, an influencer marketing platform allows companies, brands, and marketers track and meet their key influencers and take their help for effective brand marketing.
Influencer marketing platforms and software
Influencer marketing software can help organizations to identify, recruit, and interact with the influencers. Also, influencer marketing systems can help you find and manage new and established brand advocates one platform.
As an organization, you can gain access to built-in and searchable marketplaces.
Organizations can filter influencers by specific search criteria. Influencer marketing products also provide features for curating influencer-generated content, creating branded marketing materials, and tracking the performance of on-going influencer campaigns.
Therefore, by using influencer marketing software to create and manage marketing campaigns, organizations and marketers are able to leverage the influence of social influencers as ambassadors for their brand or a product.
Best Influencer Marketing platforms
Here are some of the most popular influencer marketing platforms and software, not sorted in any particular order.
Viral Nation is a global influencer marketing and talent agency. Their influencer talent agency represents top social media influencers on Vine, Instagram, YouTube, Twitter & Snapchat.
They now leverage a reach of over 500 million and growing to pair social media creators with top brands.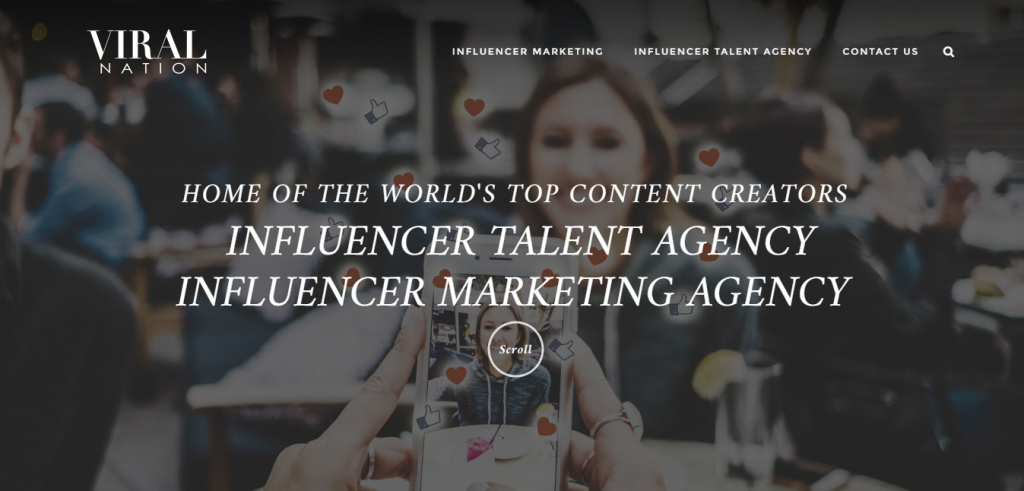 Ninja Outreach is a multi-purpose online marketing tool used by businesses for lead generation, content research & marketing, cold calling & emailing, blogger outreach, influencer marketing, and much more.
This influencer marketing platform allows marketers and companies to choose from thousands of influencers instantly with effective social and SEO insights in every niche.
It also allows finding and recruiting the most engaging users from popular social media networks like Facebook, Twitter, and Instagram.
The team at Content BLVD understand that "consumers don't go online for advertisements. They want content. Fun, entertaining, informative content."
Therefore, the founders want to help companies get the necessary exposure via their content which their target consumers actually enjoy.
Content BLVD takes care of influencer targeting, outreach, delivery, and reporting. However, at this moment Content BLVD would be more suitable to companies offering physical products rather than software or general services.
Their current strategy has enabled them to dominate a niche of more than 6,000 YouTube product experts and 3,000 product companies.
Mustr provides a platform for corporations and marketers to effectively manage and organize a healthy online network of journalists, bloggers, and social influencers.
Once you have the right list of influencers, you can start working on building mutually beneficial relationships with them.
It allows agencies and marketers to research, know and engage highly recommended bloggers in any market and use them to create and share targeted content with the right audience.
Mustr helps you and your team organize your network of journalists and bloggers.
Ted Murphy, the founder of IZEA, wants to create marketplaces that connect brands with influential content creators and publishers at scale.
A publicly-listed company, IZEA operates the premier online marketplace that connects brands with influential content creators.
IZEA creators range from leading bloggers and social media personalities to A-List celebrities and professional journalists. Creators are compensated for developing and distributing unique content on behalf of brands including long form text, videos, photos and status updates.
Brands receive influential consumer content and engaging, shareable stories that drive awareness.
Niche.co is an online community that enables social media creators to engage, thrive, and monetize.
They're a community of relevant and influential social media creators, prominent on rising platforms like Vine, Instagram and Tumblr. With both software and services, they help creators engage, thrive and monetize.
Their partners — leading brands, studios, start-ups, and agencies — look to Niche to supercharge their social presences.
Alongside their creators, they help partners acquire new users, develop audience, generate buzz and solicit engagement.
Blogmint is Asia's First automated platform that connects brands and influencers. It helps brands identify and engage targeted influencers to create powerful social and video content.
From brand awareness to product launch, your first influencer marketing campaign is just a click away.
For the influencers, Blogmint empowers them to connect with their favorite brands, try new products, have fun and earn while they do what they love – blogging, vlogging and micro-blogging.
Klear is a social platform for influencers and organizations. It allows businesses to create and monitor effective social media campaigns with the help of top influencers in their sectors.
Brands can meet and take help of a professional influencer for a promotion of a particular campaign or product. Klear also provides a complete analysis of influence marketing to allow brands to measure the effectiveness of their campaigns.
HYPR is a comprehensive platform has profiles for over 9 million influencers across every major social channel, making us the largest such database existing in the world today.
Users can search for influencers by name or by audience demographics (interests, locations, age, social platform), allowing marketers to find the best possible social influencers available for any type of campaign.
Users can search for influencers by name or by audience demographics (interests, locations, age, social platform), allowing marketers to find the best possible social influencers available for any type of campaign.
BrandBacker is the fastest growing blogger, vlogger and influencer network online. The platform connects brands that want to get exposure on blogs and social networks to over 10,000 bloggers and influencers looking for opportunities.
BrandBacker helps brands reach millions of new customers and influencers while tracking every read, click, share, like, tweet, reblog & more. Thousands of people read and interact with content created through BrandBacker every day.
The influencer marketing platform is built by GoMakeIt Labs, a small team based out of Brooklyn, NY. Backed by grants from the Berkeley Venture Lab and Start-Up Chile, the company utilizes the power of data & design to create powerful tools for creators.
Thus, as founders, they sought a better way to get exposure for the products that take creators countless hours to make. Meanwhile, their blogger friends were creating amazing content but found it hard to find opportunities and build relationships with brands.
To help these groups connect, the team built the world's best platform for managing brand-blogger interactions and tools to help each side understand their reach & influence.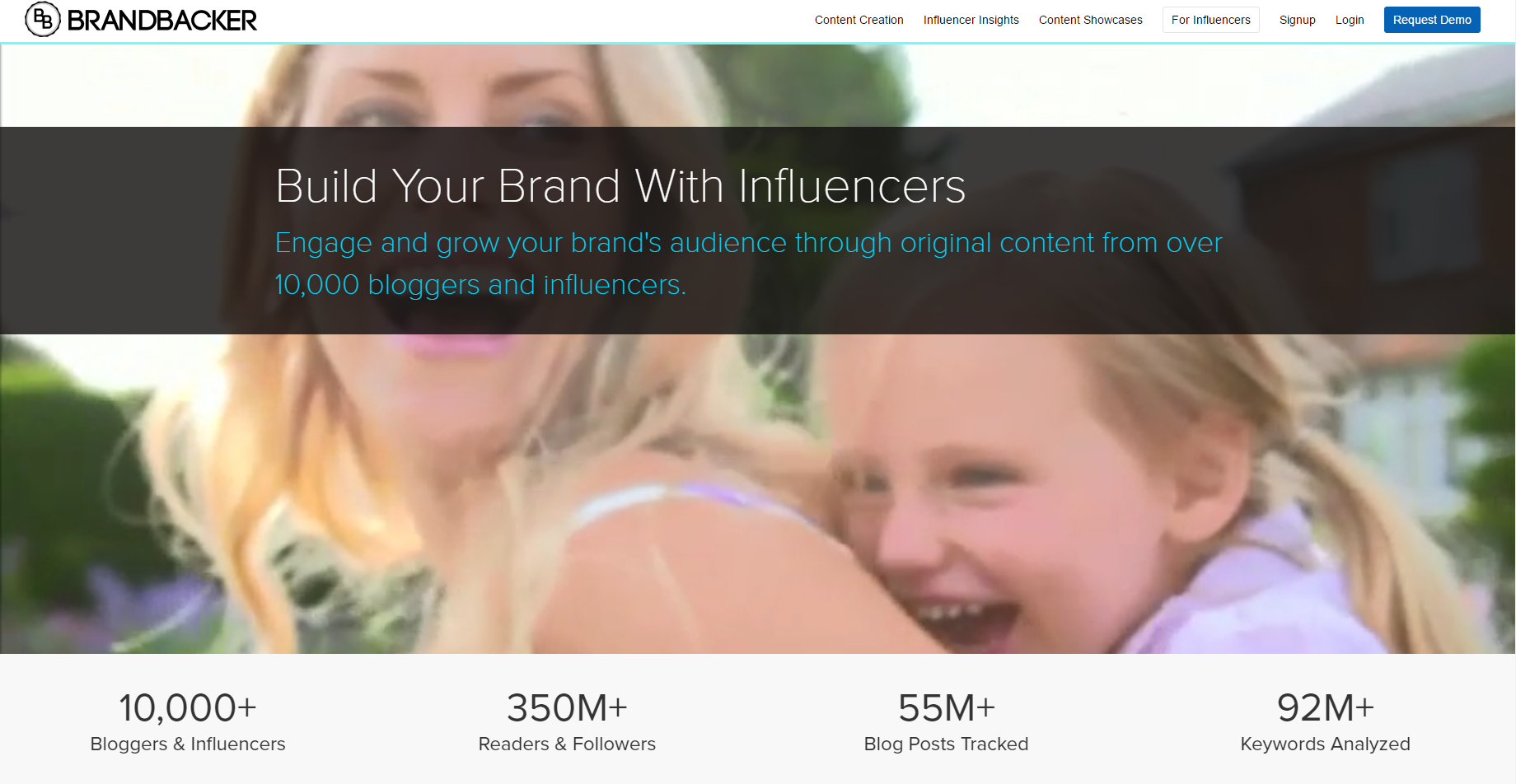 With a focus on bloggers, Upfluence changes the way companies can plan, create, and deliver on their content marketing strategies.
The platform actually consists of two different products that can be used separately or together: Reachr and Publishr.
Reachr is the way brands find influencers to create their content. Thousands of bloggers representing over 200 industries all over the world have registered with Upfluence's database, and companies can filter their searches to find just the right authoritative voice for them. Companies that want to go a step beyond content marketing and delve into the world of native advertising can use Upfluence's Publishr platform.
By using Publishr, companies can work with as many writers as they wish simultaneously. These are writers who've already got longstanding relationships with news outlets publishing sponsored content. Collaborating with each writer is a centralized platform, streamlining the process of reviewing and annotating each piece. As articles are published, brands can track and analyze performance.
Publishr empowers native ads campaigns for popular brands and businesses by introducing them to the best social media influencers in their target markets.
Influenster is a product discovery platform and review site that enables consumers to find new products to try and get advice so they can make informed purchases.
Members use Influenster to explore the latest products, gain fresh insight, pick up new tips, and share their opinions with others. Influenster helps its members compare products and guide them on how products can be integrated into their lives. We inspire a love for products and encourage discovery, conversations, and reviews.
The Influenster community of 2 million+ members is still rapidly growing. These product mavens with a heavy social media presence use their influence to spread the word about the products they know. Ever since the launch of Influenster.com 3 years ago, over 7 million reviews have been created for more than 1.5 million products.
Headquartered in New York City, Influenster was founded by Elizabeth Scherle and Aydin Acar in 2011.
BuzzSumo shows you the most shared links and key influencers for any topic or website. Ideal for content strategy, outreach, and competitive research.
BuzzSumo has a powerful influencers search. You can search for the key influencers in any topic area or location. Filter influencers and sharers by reach, authority, influence and engagement.
Build and maintain outreach lists and engage with key influencers.
Exposely allows businesses to reach their target customers and audiences through right influencer and engaging content. Content marketing is a popular marketing trend that becomes even more powerful when combined with the right influence platform.
Exposely provides that platform for brands to research and connect with highly engaged social influencers, use them to share the content with more and better audience, and track the performance online.
French-based Octoly offers brand management software that enables businesses to get their products features on YouTube videos.
Octoly offers brand management software that enables businesses to get their products features on YouTube videos. It enables brands to increase their visibility among communities of fans.
It enables brands to increase their visibility among communities of fans.
Octoly was founded by Thomas Owadenko, Fabien Guiraud, and Jean-Marc Druesne in 2013 and is based in Paris, France.
Crowdly is a popular advocate marketing platform used by many businesses and brands to empower their influencer marketing campaigns with the help of right advocates.
It helps businesses search and identify their own authentic advocates from social media networks and use them for better marketing and promotion of brands.
It provides you with a platform to connect with and manage all your influencers from one dashboard.
Jamballa is a blogger outreach online community with a listing of thousands of professional bloggers and market leaders from various industries.
It provides a common platform for brands to meet bloggers, who can help them with their content marketing campaigns and strategies.
The best part is that bloggers are free to choose the brands they love and brands are only connected with bloggers who are relevant to their industry and markets.
InNetwork influencer marketing software is an online platform for influencers and marketers to meet and build strong professional relationships.
It gives brands and marketers a platform to quickly identify the best social influencers, build strong relationships, manage all their campaigns from a single interface, collaborate and track the performance of campaigns, and more.
The app is compatible with all major platforms and can be accessed anytime, from anywhere.
NeoReach is a social influencer marketing platform that connects brands with top social media influencers for better reach and influence.
This is a community of many famous social media users and celebrities who help brands and marketers promote and share their content and campaigns with the right audience on social networking sites.
Coming from famous people and influencers, the content gets more clicks and better response.
Adly is an online marketing platform that connects brands and marketing agencies with influencers and famous people to increase the reach and engagement of their campaigns.
The software can be used by marketers to create user-friendly content campaigns and find the right influencers to promote the content on social sites.
Celebrities and influencers get the opportunity to talk about their favorite brands with their audience and followers.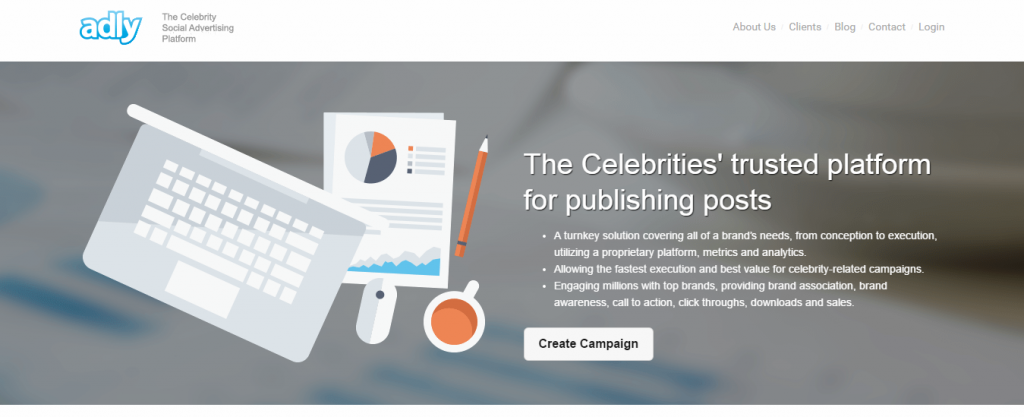 Zoomph is a social media marketing and influencer engagement platform used by marketers to promote their clients' campaigns and content on social media sites.
It enables them to test, enrich and share content to multiple networks from a single platform. It supports influencer marketing that involves finding the right people to share and promote your content on your behalf.
Zoomph also gives detailed analytics into competitor campaigns and social media trends.
InstaBrand is an online platform to help businesses find the right people to share their stories. It helps bridge the gap between marketers and influencers by providing both parties a common platform to meet and share mutual benefits.
InstaBrand allows marketers and brands to search and connect with the most influential content creators in their niche to speak to their audience.
It also provides tools for campaign management, content creation, and analytics.
Revfluence is an online platform that features hundreds of popular brands and content creators.
It allows companies to connect with relevant content creators and influencers to promote their brands to the right audience.
Professional content creators can generate original and influential content for your product or campaign and promote it to their followers on Facebook, Twitter, Instagram and other social networking sites.
Find Your Influence (FYI) is an online community platform for bloggers and marketers.
It gives bloggers the opportunity to make money by utilizing their talents to help their favorite brands with their marketing campaigns.
At the same time, it helps marketers and agencies find the right influencers to market and promote their clients' brands and content to the right audience with their influential skills and honest reviews.
Grapevine Logic works with over 200 brands, offering its influencers, product packages in exchange for reviews.
Like some of the best options, the homepage is in simple WordPress format, and they offer their own analytics engine to help brands and agencies find the most popular influencers.
Inkybee outreach marketing and management platform is designed to help marketers and agencies find the right content and influencers for better social media marketing.
It features several tools to allow agencies to search and discover relevant blogs and content, save and manage campaigns, track and find influencers on social networking sites and establish connections, and analyze performance reports.
Inkybee gives you tools to research clients' business and find the right influencers for them.
SociaBuzz is an online marketplace connecting brands and businesses with social media influencers across Instagram, Blog, YouTube and Twitter to create word-of-mouth marketing campaigns.
The software allows businesses to track and find the best influencers for their brands from among thousands of users. Advertisers can then connect with influencers and allow them to share the content with their social media followers.
They can also track and monitor their campaigns and generate reports from a single dashboard.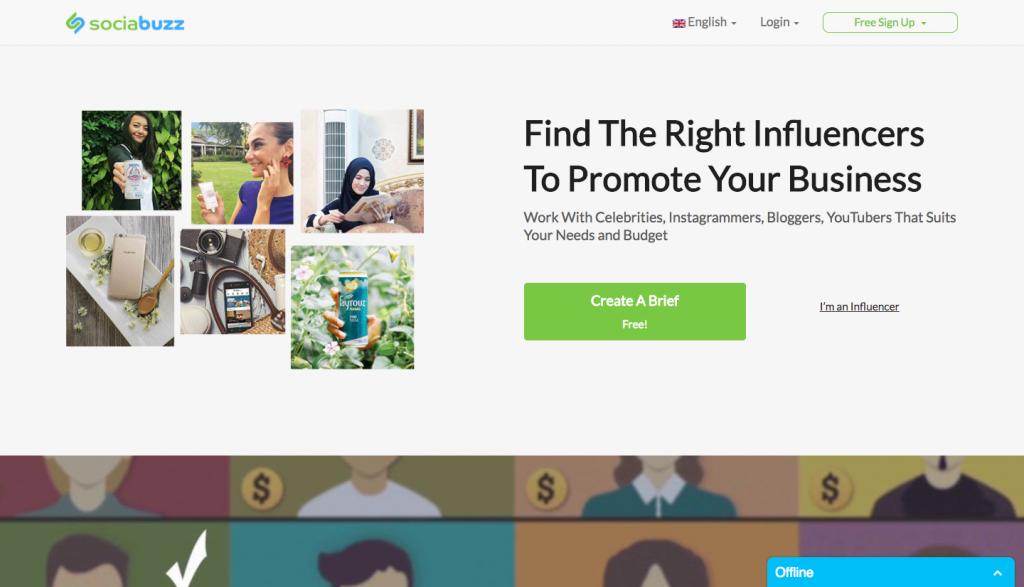 Little Bird helps businesses discover the best and most relevant influencers and content, and use them to build better marketing strategies.
It specializes in providing reliable, on-demand influencers at scale with the ability to manage all relationships from a single platform. Brands can create the best content to attract consumers and take the help of influencers to share that content with the right audience.
Markerly helps brands and businesses find truly helpful influencers to build brands' reputation in the target market.
It allows brands to meet and know their influencers, and leverage them to share genuine reviews and content with other consumers.
Companies can also track users that are in touch with their existing brand influencers and target them with the right content created and promoted by trustworthy advocates.
Pitchbox is an influencer outreach program that helps companies track and find the best-talented influencers, bloggers, reviewers and experts in their niches and build real, personal connections with them.
The software is suitable for SEO companies, marketers, brands, growth hackers, and any other business of any size.
It also offers various outreach tools, such as intelligent templates and integrated email client for effective relationship building between influencers and marketers.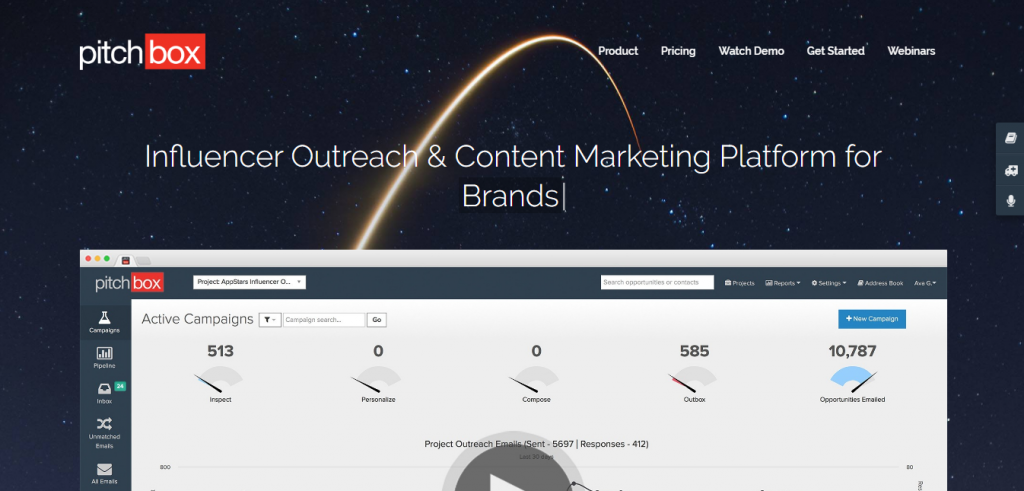 GroupHigh blogger outreach and influence marketing software is an online tool to help companies do successful blogger outreach to find and engage top influencers and bloggers in their areas.
It also allows companies to build and maintain mutual relationships with bloggers and measure the success of their earned content campaigns.
GroupHigh's rich platform allows users to find bloggers based on topics, locations, engagement, popularity, and more.
Onalytica is a very effective influence marketing platform that researches and finds top influencers for the specific content provided by the brand or marketer.
Brands can then choose the best influencer to share the content with their networks of potential users and consumers on social media and other platforms.
Onalytica helps brands and agencies find the right influencer for the marketing and promotion of a particular item or campaign.
Webfluential is a global community of influencers and brands that come together to help each other reaching their goals.
The platform helps marketers and brands by providing them top social influencers in every niche to promote their products and campaigns to social media users through targeted content.
Influencers can connect with their favorite brands, handle their digital campaigns and share genuine reviews and content about them.
Traackr is an influencer marketing and management platform that gives businesses the opportunity to know their key influencers, build healthy relationships, and measure their effectiveness for the brand marketing.
It works as a common platform for influencers and brands to build a mutual relationship for mutual benefits.
It is a community of influencers, who know people and impact brands, and businesses, and can change the mindset of buyers with genuine reviews.
A Chicago-based influencer marketing platform, Popular Pays is a platform connecting content creators with brands who want content to tell their stories.
Popular Pays is a platform connecting content creators with brands who a looking for ways to tell their stories with content.
As a tech company, Popular Pays offers an in-house built iOS app (for creators) and dashboard (for brands) that delivers direct communication & powerful statistics.
BlogDash is an online community of millions of bloggers and content experts, who help brands and businesses build their reputation and market their products to potential customers.
It allows brands to find top influencers and bloggers in their niche, engage them with offers, hire them to write content and reviews, and keep track of their efforts and progress.
BlogDash blogger outreach software is suitable for businesses, enterprises, and brands.
Zuberance brands with the right influencers. It empowers advocates with the right tools to create powerful content for marketing of targeted products with the positive Word of Mouth.
It also allows businesses and brands to find influencers and manage their influence marketing campaigns through a single platform.
It also supports tracking of the progress, marketing efforts and final results.
FameBit influence marketing platform makes it easy for brands to find, hire and engage top influencers and creators for promotion on YouTube, Facebook, and other social platforms.
It serves a reliable technology for businesses to manage their complete influence marketing campaigns, from hiring creators to assigning tasks to approvement of content.
Users can also keep track of their marketing results, sales, and growth from a single platform.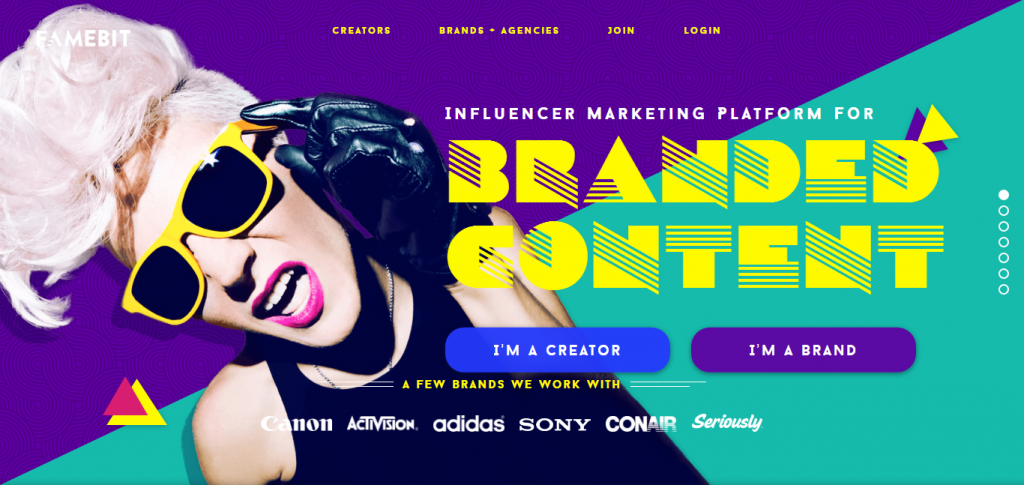 Influitive is an advocate and influence marketing platform that allows businesses and marketers to find and recruit top advocates or influencers to support their marketing campaigns, share good reviews & recommendations, and refer new clients.
Influitive gives marketers the opportunity to benefit from their happy customers and influencers who can promote the products and services with their trusted circle through genuine reviews and word of mouth.
TapInfluence is an influencer marketing automation platform to help brands and agencies find the best influencers in their niche.
Real and popular people in the market can effectively promote products and campaigns for any brand or business and help build the brand's reputation in the market.
TapInfluence allows corporations to take the help of the right influencer to market their product to the right customer with the right content.
Activate connects brands with the world's largest influencer network.
Their technologically advanced platform combined with the world's largeoppst influencer network powers effective and measurable social influencer campaigns.
Being on both sides of the table, they know how important and challenging it is for progressive brands and influencers to find each other.
Finding and working with the right partner can lead to countless valuable collaborations.
Buzzoole is a community platform for influencers and brands.
It allows businesses to engage influencers and brand marketers to earn relevant media and for better promotion on social channels. Buzzoole finder is a simple and fast tool to search the best influencers in any category.
The platform also gives influencers the opportunity to find and represent their favorite brands by marketing their products and services through social media and content.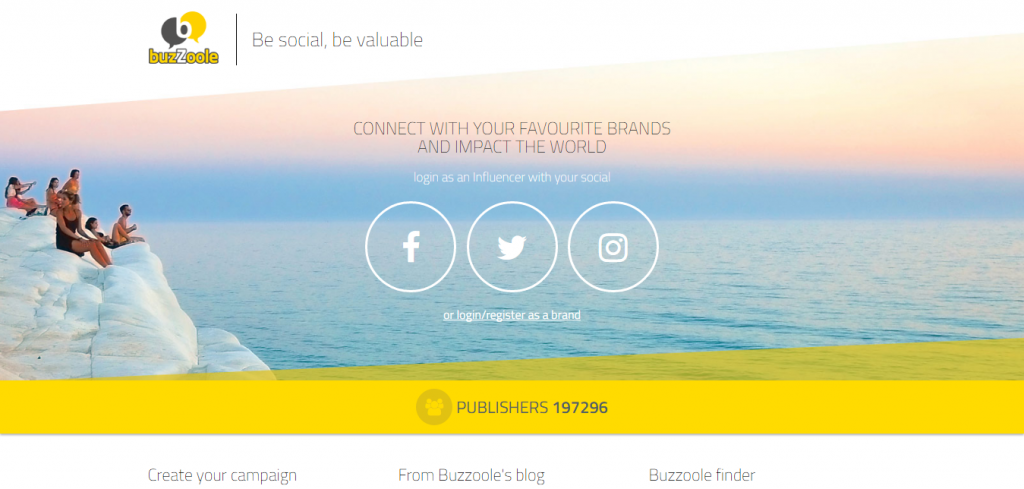 BuzzStream is an online social platform that helps influencers promote their clients' products and services to build brand reputation.
It also allows companies to research top influencers in their niches, build relationships, and create personalized influence marketing campaigns for the promotion and marketing of their products.
The platform represents a single centralized platform for all team members to meet and work in collaboration.
Klear is a social platform for influencers and organizations.
It allows businesses to create and monitor effective social media campaigns with the help of top influencers in their sectors.
Brands can meet and take help of a professional influencer for a promotion of a particular campaign or product.
Klear also provides a complete analysis of influence marketing to allow brands to measure the effectiveness of their campaigns.
Do you use some of these influencer marketing platforms? Which one would you recommend?
Leave your thoughts in the comment section below!
For more business tips, check our entrepreneurship section and subscribe to our weekly newsletters.