You have probably already heard of Web Summit, an annual event that creates quite a buzz in the tech and startup community. Launched in 2009 in Dublin, Ireland, it grew from just a few hundred visitors to more than 70 thousand attendees in 13 years. Since 2016, the event has been hosted annually in Lisbon, Portugal.
Part of the AlphaGamma team has been attending Web Summit since 2016, and this year, we returned to Lisbon once again.
Are you curious about how it was to be a part of such a large-scale event?
Web Summit is claimed to be the biggest tech gathering in the world, but take a look at the stats and decide for yourself.
Web Summit 2022 in numbers:
71,033 attendees from 160 countries,
204,386 square metres (1,046 tennis courts),
2,296 startups,
1,081 investors from 60 countries,
342 partners from 94 countries,
1,050 speakers,
2,000 members of the media.
The summit sold out three weeks before launching and had reached its capacity welcoming more people than ever before.
On the first days of November, all eyes were on Lisbon. With a lineup of over a thousand of speakers and a list of trending topics, Web Summit lured thousands of people from 160 countries.
But was it a place to be, or did the event organizers misreckon their capabilities to launch such a big event and make it a success?
Was it a great experience or over-hyped waste of time?
Organising such a massive three-day event is challenging in many ways. It was the biggest event I've attended so far, and knowing there will be so many people, I wondered if there would be enough space for me to attend the sessions I wanted.
The Web Summit app is a super helpful tool, allowing you to build your schedule and connect with other attendees. Yet, it wasn't easy to choose from hundreds of great talks covered in 26 tracks across 17 stages, not to mention the masterclasses, roundtables and other events happening simultaneously.
Registration was possible both on-site and at the airport, which reduced the queue time. I was surprised there were no lines in the afternoon of the opening ceremony, and the registration took only a couple of minutes.
The next morning, however, there were many more people waiting for their badges. For the upcoming edition, I strongly recommend registering a day before the event at least if you are in town.
At first, the scale of the event may be intimidating. The venue is located in Parque das Nações and comprises Altice Arena as a centre stage, supplemented by five pavilions.
Nonetheless, considering the number of people present at Web Summit, it hasn't felt claustrophobic, and the line to get a (free) coffee was never longer than a couple of persons.
Choosing from over six hundred talks happening on 17 stages was not easy, but all of them were recorded and are available for attendees on the Web Summit's app. Top industry players discussed recent innovations in all fields of technology and beyond. Over three days, leaders of countries, investors, CEOs, YouTubers, athletes, actors, activists, politicians, and many more influential figures gave their insights for the future.
Besides all things in tech, the experts spoke about art, sports, fashion, culture, marketing, design, health, food, equality, and many more.
You can watch the talks that took place on the centre stage on Web Summit's YouTube channel.
Highlights of Web Summit 2022
It would be impossible to encapsulate everything that happened over these three packed days, so here are the moments, people and solutions that made the biggest impressions on me (in a random order):
Trending topics that will define 2023:

👉 Web3
👉 Sustainability
👉  Decentralized finance
Sono Motors' Sion solar-powered, fully self-sufficient on short distances car that will make daily commuting sustainable.
Meeting with Anna Sheremetieva, R&D Product Manager at SoftServe, a tech company with Ukrainian roots. It was powerful to experience the technology developed by the company, discuss their solutions, metaverses, and how it is to work and live in a war zone.
Learning about breakthrough cleantech solutions from Robert Trezona, an investor supporting startups decarbonising the economy and Jane Jin, co-founder of OXCCU, an alternative fuels startup using CO₂ and renewable energy to make aviation fuels sustainable.
Very inspiring speech at the closing ceremony delivered by the President of Portugal, Marcelo Rebelo de Sousa. With its business-friendly environment, Portugal is one of the best places for digital nomads and attracts young leaders looking to launch their startups.
Happy hours, cheering and chatting with tech enthusiasts from all over the world while enjoying Portuguese wine at the exhibition space 🥂.
Highlights of Web Summit 2022
Startups disrupting the tech ecosystem
The final day of the summit concluded the PITCH, a live onstage battle of the world's leading early-stage startups.
The finalists presenting their disruptive solutions on the main stage were Biome Diagnostics, a MedTech and pharma startup from Austria, Gataca, an enterprise software solutions startup from Spain and Theneo, an AI startup from Georgia crowned as the winner of this year's PITCH.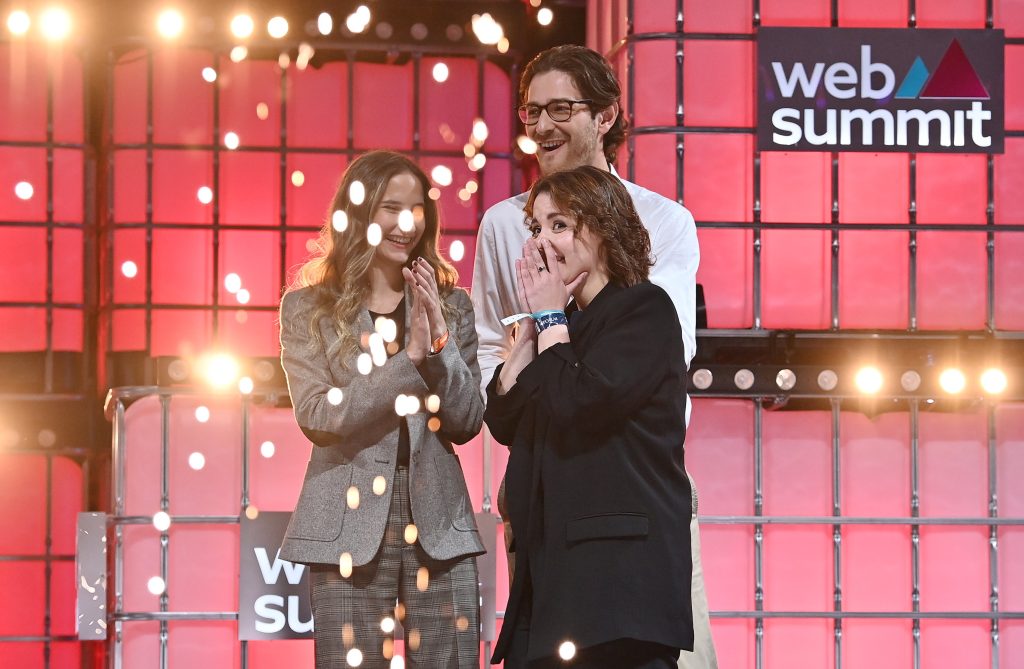 It was an emotional moment not only for the Theneo team but also for the Georgian startup ecosystem they represented. Hopefully, this success will inspire more Georgian entrepreneurs to reach the stars in the upcoming editions of PITCH.
What the victory at PITCH means for a startup? Smartex, the winner of the 2021 edition, raised US$25 million in its Series A funding round.
Congratulations to all the awesome 105 startups presenting their solutions at Web Summit's PITCH!
Save the dates: the next edition of Web Summit is happening on November 13-16, 2023
Lisbon has been home to Web Summit since 2016 and will remain until 2028. The economic impact of Web Summit on Portugal influences the rapid transformation of its capital city. The previous Mayor of Lisbon, Fernando Medina, said that thanks to the summit, Lisbon is the key capital for innovation, entrepreneurship and talent.
Paddy Cosgrave, the founder of Web Summit, was asked if the event will leave Lisbon after 2028, and he replied: "We probably never will".
See you in Lisbon next year! 👋
Have you attended Web Summit 2022? Share your experience in the comments below!
---
For more technology and entrepreneurship tips, subscribe to our weekly newsletter and follow us on Twitter, Facebook, Instagram and LinkedIn.