Deadline: February 10, 2019 17:00 GMT-0600| Apply here
[Oops, the opportunity has already expired. Sign up to AlphaGamma weekly newsletters to stay ahead of the game]
Eligibility: Startup must fall into one of the four categories (see below) and include at least two degree-seeking students, one of whom must be a graduate degree-seeking student. Students who graduated before July 1, 2018, and startups that have competed in prior Rice Business Plan Competitions are not eligible to apply.
Dates: April 4-6, 2019
Official website: www.rbpc.rice.edu 
Rice Business Plan Competition 2019
The competition is hosted and organized by the Rice Alliance for Technology and Entrepreneurship, which is Rice University's internationally-recognized initiative devoted to the support of entrepreneurship, and the Jesse H. Jones Graduate School of Business.
The Rice Business Plan Competition, the world's richest and largest graduate-level student startup competition, opened applications for the 19th edition!
Since its inception in 2001, the competition has grown from 9 teams competing for $10,000 in prize money to 42 teams from around the world competing for more than $1.5 million in cash and prizes.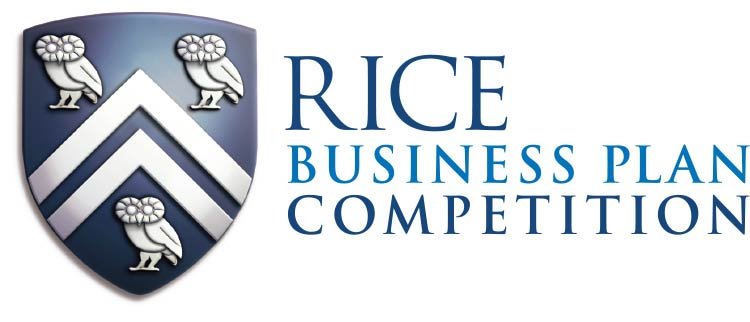 More than 180 corporate and private sponsors support the Rice Business Plan Competition
Angel investors, venture capitalists and other investors from around the country volunteer their time to judge the competition, with the majority of the 275+ judges coming from the investment sector.
Since 2017, 205 past competitors have gone on to successfully launch their businesses and are still in business today, 28 of those have had successful exits.
All past RBPC competitors have raised over $1.9 billion in funding!
Rice Business Plan Competition 2018 Highlights
An unparalleled experience for the participants
The competition is designed to give collegiate entrepreneurs a real-world experience to fine tune their business plans and elevator pitches to generate funding in order to successfully commercialize their product.
RBPC provides an unparalleled experience for the participants by designing a diverse program over the course of 3 days, with significant time designated for feedback and interaction with the judging panel.
Reasons to apply
Real-world opportunities to learn what's required to successfully launch a new business
The chance to receive mentoring from investors and experienced entrepreneurs
Scheduled opportunities to network with potential venture capitalists and other investors for three days
The high caliber of judges, all senior level investors, entrepreneurs, and industry leaders
Opportunities to receive individual feedback during three separate sessions
Need more reasons to apply? Take a look at the success stories of the previous winners and hesitate no more!
Who should apply
The competition is meant for student-created and student-led ventures, including new ventures launched by licensing university technology.
Students participating in the competition are expected to:
be a driving force behind the new venture
have played a primary role in developing the business strategy
have key management roles in the startup venture
own significant equity in the startup venture
hold a major position in the startup (CEO, COO, or President)
occupy 50% or more of the functional area management positions that report directly to the CEO, COO, or President
own equity in the venture – least 20% of the total equity in the venture or at least 50% of the equity owned by the management team. The idea is to exclude ventures formed and managed by non-students who have given little or no equity to students for helping to develop the business strategy or create an investor pitch deck.
Startups that fall into one of four categories or sectors are encouraged to apply:
Energy/Clean Technology (including but not limited to): Sustainability, Water, Battery Technologies, Control Systems, Smart Metering, PV Technology, Natural Gas, Transportation/Mobility, Oil & Gas Technologies, Algae, Fuel Cells, Hybrid Vehicles
Tech (including but not limited to): Mobile Apps/Software, Digital Media, Consumer Web, B2B Applications, Enterprise Software, SAAS, Web, Virtual Reality, Big Data, Machine
Learning, Artificial Intelligence, Drones, Hardware, Robotics, Unmanned Vehicles, Internet, IoT
Life Sciences (including but not limited to): Medical Devices, Diagnostics, Digital Health, Health IT, Biotech, Therapeutics
Other Innovations (including but not limited to): Advanced Materials, Composites, Nanotechnology, Consumer, Other Technology
Interested in applying for the Rice Business Plan Competition 2019? Don't miss your opportunity and register your participation by following the registration link and taking the suggested steps.
---
For more opportunities, check our opportunities section and subscribe to our weekly newsletters.