Update: This article has been recently updated to include more recent trends and opportunities for aspiring social entrepreneurs.
The scarcity of natural resources, an increasing pace of the world population growth, poverty reduction, widening middle class in emerging markets and the negative climate change impact are considered to be the great challenges of today.
In fact, they are so important that the United Nations set the solutions development to these challenges as the number one priority within its Millennium goals.
However, the multi-national corporations lack the ability to solve – for various reasons – the issues that the modern society faces.
Previously, companies have attempted tackling those challenges with public services, corporate social responsibility (CSR) programs or charities, but it has proved to be not enough.
In fact, some companies abused these approaches to the extent that makes CSR sound like a cliché. Needless to say, charity organizations, foundations or well-establish multinationals were not able to completely combat poverty, hunger, ignorance and environmental degradation. Eric Roston, the science reporter from Bloomberg, summarized it in a tweet.
Slogan slogan jargon cliche slogan corporate social responsibility jargon: Empty Signifier. #CSR

— Eric Roston (@eroston) June 11, 2015
Numerous experts from all over the globe and from various fields – business, policy-making, and academia – urge for a new approach.
This is when social entrepreneurship comes into play.
"The current financial crisis and its global consequences have increased the need to position social questions at the heart of the global economy", says Alain Fayolle, professor of Entrepreneurship from emlyon business school,
If you have an idea for a social enterprise, you might want to apply it within the global entrepreneurship program, offered by emlyon business school (Europe), Zhejiang University (Asia) and Pace University (USA). The Global Entrepreneurship Program is tailor-made for young and ambitious professionals who want to become successful entrepreneurs in a global context.
"The main goal of social entrepreneurship is to address the need, or demand, that has not yet been addressed by the state or the commercial sector".
Social entrepreneurship offers a new way of thinking and a perspective to fill in the loopholes left by large companies. Social entrepreneurs want to address societal problems and provide innovative solutions by using market mechanisms.
The academic world understands the importance and potential impact of social entrepreneurship. For example, emlyon business school has an international entrepreneurship program, which includes social entrepreneurship as one of the 4 main pillars of entrepreneurship.
In general, a social enterprise can be distinguished with a societal mission under the slogan "impact first".
Yet, comparing to charities, it has a distinctive approach to making a social impact in a financially viable manner.
So how is it different from any successful enterprise? They also seem to affect the society in one way or another while being commercially successful. Let's look into it more closely.

What is social entrepreneurship?
Social entrepreneurship (also known as sustainopreneurship or sustainable entrepreneurship) is a concept of applying business techniques and private sector practices to find solutions to social, cultural or environmental problems.
In his book, Prof. Fayolle states that "social entrepreneurship aims to better accommodate a social dimension within the traditional economic behavior, to take into consideration social problems, countries' and communities' contexts and situations, and the plight of socially challenged or disadvantaged individuals."
The concept of social entrepreneurship may be applied to a variety of organizations with different sizes, aims, and beliefs, but it is commonly applied to starting new organizations.
It is assumed that the company has a purpose that goes beyond just making money, it needs to have a social cause. This cause is measured by the scale of the positive impact an organization makes with its activity.
According to the research paper prepared by EY (formerly known as Ernst&Young), there are key characteristics that make a social venture different from a traditional business. A social enterprise:
Creates a positive impact on society (socially or environmentally);
Realizes its primary objective by delivering a service or product as an independent organization;
Is financially self-sustainable and therefore does not depend on donations and subsidies.
Additionally, it runs its business in a sustainable way:
Profit is allowed, however, the financial goals are supportive of the company's societal mission;
Scalability of the business model increases the level of impact;
Dividends paid to shareholders are reasonable;
Governance and policies are based on equal voting rights for all parties involved;
Fair to everyone;
Environmentally conscious;
Transparent.
Yet it still causes confusions for who social entrepreneurs are. The confusion seems to arise when charities and charitable foundations are called social entrepreneurs, yet it is counter-intuitive when a charity is expected to be profitable.
However, this does not exclude cases when charities find a way to introduce valuable services or products that can be offered at a price.
Just to give you a better idea of who social entrepreneurs are, Ashoka Foundation offered a list of historical examples of Leading Social Entrepreneurs:
Vinoba Bhave (India): Founder and leader of the Land Gift Movement, he caused the redistribution of more than 7,000,000 acres of land to aid India's untouchables and landless.
Dr. Maria Montessori (Italy): Developed the Montessori approach to early childhood education.
Florence Nightingale (U.K.): Founder of modern nursing, she established the first school for nurses and fought to improve hospital conditions.
Jean Monnet (France): Responsible for the reconstruction of the French economy following World War II, including the establishment of the European Coal and Steel Community (ECSC). The ECSC and the European Common Market were direct predecessors of the European Union.
Want to meet social entrepreneurs from the Global Entrepreneurship Program? 
Meet the Foreign Big Brothers and Helga Quijano, graduates of the Global Entrepreneurship Program.

Top 3 social entrepreneurship trends in 2017
Even though the exact definition might remain subject to debate, there is no doubt that the social cause reinforced by the commercial activity will become more common among new and established businesses. It is already a global trend. For example,
For example, at the World Economic Forum in Davos, Switzerland, where the most influential leaders from the corporate, political and academic worlds meet to discuss the next trends, social entrepreneurship takes a separate and honorable role.
Social entrepreneurship trend #1: Going mainstream
Ryan Little, Project Manager at the BMW Foundation, and co-founder of the Canadian charitable platform, CanadaHelps, suggests that social entrepreneurship is becoming more like mainstream entrepreneurship, and that's a good thing. Over the next five to ten years, we can expect a shift in the way social enterprises are funded.
Social entrepreneurship trend #2: Improved ecosystem
As the discussion of social entrepreneurship moves deeper into this topic, there will be an improved availability of services to help social entrepreneurs succeed. We can also expect that organizations and professionals supporting social entrepreneurs will improve their teaching methods and resources for those interested in social entrepreneurship.
This trend is already emerging as more graduate programs are aiming at social innovation and social entrepreneurship is rolling out to meet students' demand. For example, during the Global Entrepreneurship Program students examine the theory of social entrepreneurship which as the same time of working on their own venture.
Social entrepreneurship trend #3: Better connectivity
Social entrepreneurs have always craved for connections with each other, but it seems only recently that a tipping point has been met. The prevalence of people interested in social entrepreneurship is finally at the level where they are able to start connecting with the right people and the right time with greater ease.
There are plenty of formal and informal communities emerging and connecting all over the world, locally and globally.  If the past few years were the phase of spontaneous collisions between like-minded social entrepreneurs, 2017 will bring greater cohesion and the opportunity for purposeful connections.
The academic world also understands this. The importance of connectivity and networking is also reflected in the Global Entrepreneurship Program as graduates help each other out with .

How do millennials perceive social entrepreneurship?
As the Millennials (also known as "Generation Y" – this is a term that applies to anyone who was born after 1980) keep entering the labor force and start new companies worldwide, they start shaping the global economy.
Why is it important? The Millennials represent the largest batch in the past 5 decades to join the global markets, which will inevitably change the way how businesses are conducted.
For instance, despite the fact that Millennials are joining the market at the toughest time in the past 100 years, a recent Nielsen global online study found that they continue to be most willing to pay extra for sustainable offerings.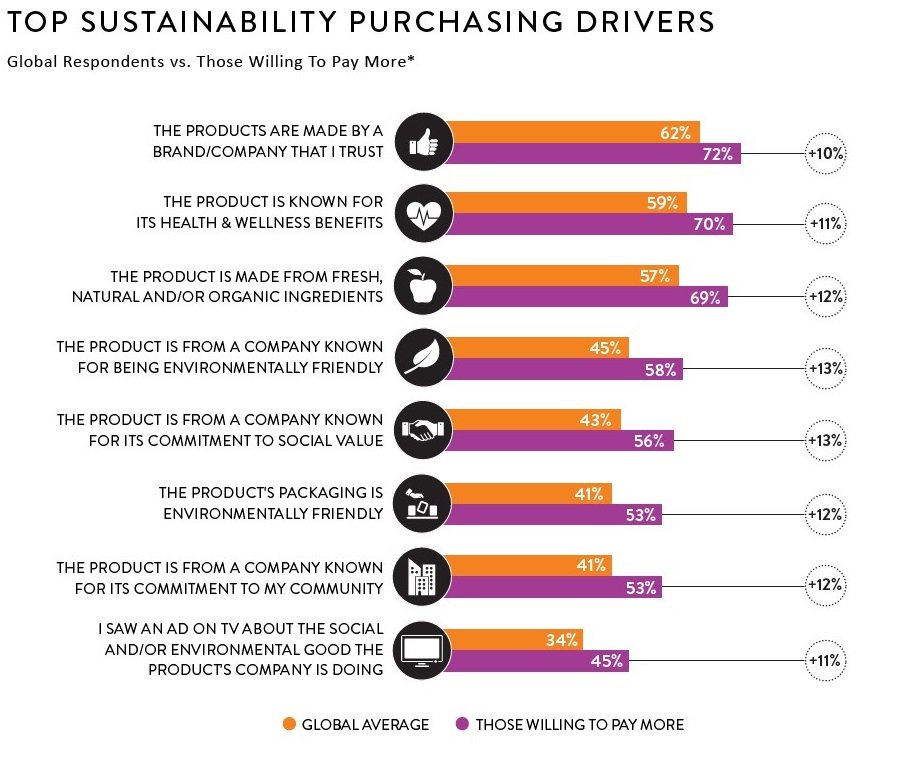 "Brands that establish a reputation for environmental stewardship among today's youngest consumers have an opportunity to not only grow market share but build loyalty among the power-spending Millennials of tomorrow, too," says Grace Farraj, SVP, Public Development & Sustainability at Nielsen.
The Nielsen report also made a summary on how new generations perceive brands that are socially responsible (see the infographic). However, it is not correct to call the Millennials or Generation Z "environmentalists".

If you have an idea for a social enterprise, you might want to apply it to the global entrepreneurship program, offered by a consortium of international business schools recognized as the expert in Global Entrepreneurship.
Global Entrepreneurship Program is tailor-made for young and ambitious professionals interested in a global entrepreneurial approach. Combining the world's best entrepreneurial teaching with three diverse global markets, the Global Entrepreneurship Program prepares you to be a successful entrepreneur in a global context.
You will immerse yourself into a cultural experience far beyond pure academic studies as you will live and work with students from around the globe.
---
What do you think? Do you agree with the definition of social entrepreneurship, and how would you define it? Is social entrepreneurship inevitable future? Let us know in the comment section below.
For more business and entrepreneurship trends, check our entrepreneurship section and subscribe to our weekly newsletters.