Looking for a more recent list? Here is our overview of the best business plan competitions in 2019.
There are many ways you how you can raise funds to fund your venture.
Yet, instead of giving away equity of your startup early on, you might consider getting an equity-free grant. Simply put, money with no strings attached.
Business plan competitions are great opportunities to get funding for your business ideas, feedback on your strategic plan, and exposure to the right audience.
This is also a smart way to expand your network and acquire new talent, partners, and clients.
There are organizations and foundations who organize and support business plan competitions every year.
Competitions vary from business plan competitions, elevator pitches, to social entrepreneurship competitions for current and recent student entrepreneurs.
Editor's note: Make sure to bookmark this page as we keep on adding and reviewing new business plan competitions to the list.
The 17 best business plan competitions in 2018
To make it easier for you, we made a selection of the largest business plan competitions in 2018 to attract funding for your startup.
We ranked these opportunities in chronological order.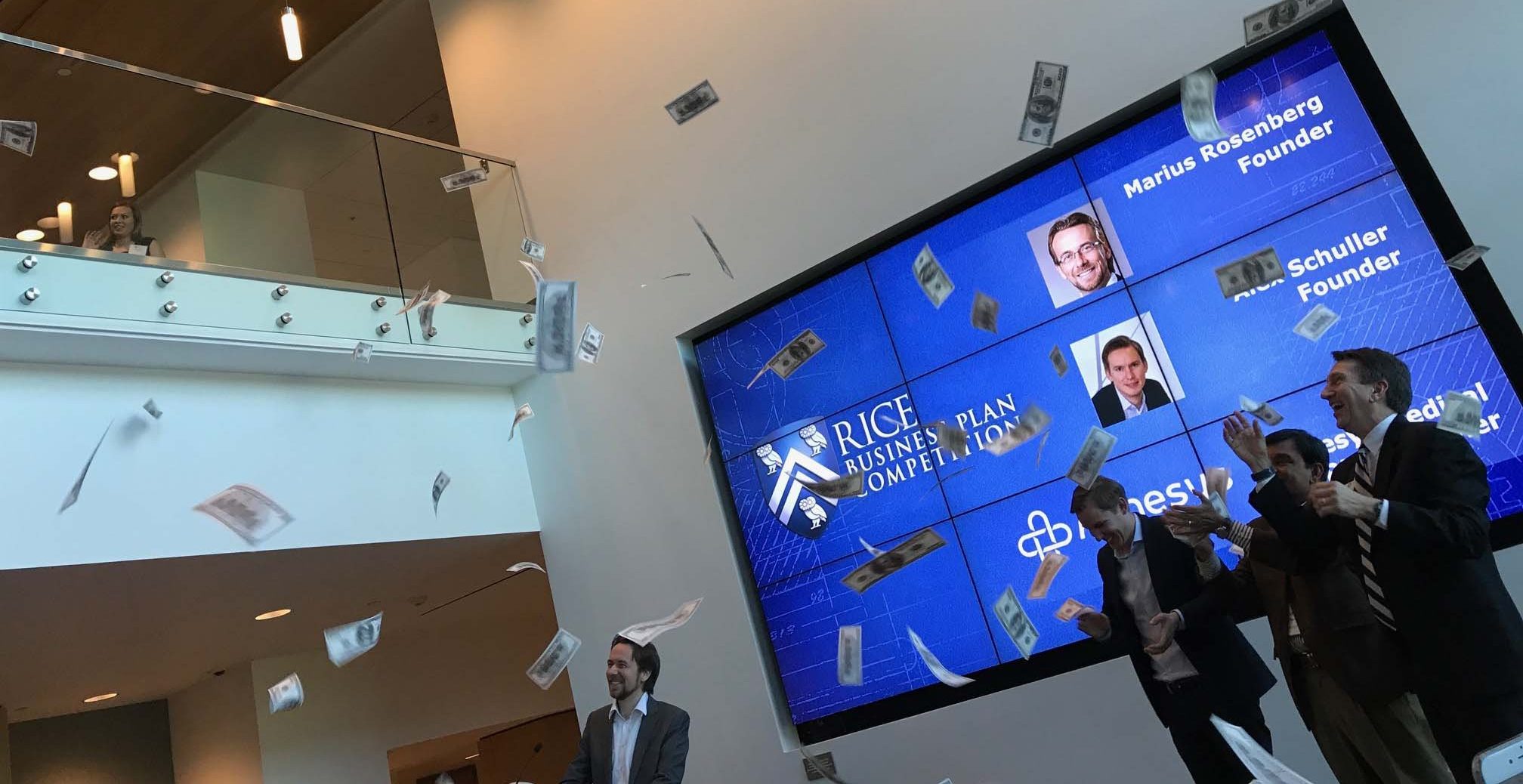 Prize: $1,500,000 in cash, investments & prizes
Deadline: February 9, 2018
Dates: April 5-7, 2018
Location: Houston, TX, USA
The Rice Business Plan Competition is the world's richest and largest graduate-level student startup competition.
The competition is open for applications from national and international startups to compete for one of 42 spots to win cash prizes, investments, mentoring, workspace and more.
It is hosted and organized by the Rice Alliance for Technology and Entrepreneurship, which is Rice University's internationally-recognized initiative devoted to the support of entrepreneurship, and the Jesse H. Jones Graduate School of Business.
Apply now for a chance to win $1.5M dollars in cash and prizes!
---

Prize: $100,000 in cash & prizes
Deadline: February 15, 2018
Location: Salt Lake City, UT, USA
The Utah Entrepreneur Challenge (UEC) is a statewide, student business plan competition.
Teams from universities across the state compete for more than $100,000 in cash and in-kind prizes.
Aside from money, participating teams receive mentorship from community experts, and are given feedback by professionals in their respective industries.
The grand prize is $40,000 in cash, and additional prizes are granted for best business plan, presentation, technology, and more. Many past winners have developed into successful enterprises.
The competition is open to all university students across the state.
---

Prize: $300,000 in cash
Deadline: February 21, 2018
Location: Boston, MA, USA
The New Venture Competition is an annual student competition sponsored by Harvard Business School's Rock Center for Entrepreneurship and Social Enterprise Initiative.
Are you pursuing a new business or social impact venture?
Participants can join  in the New Venture Competition through one of 15 regional competitions hosted by 18 alumni "hub" clubs around the world.
The winning team from each regional competition attends the NVC finale and advances to online crowd vote finals.
---

Prize: Training & mentoring
Registrations will open on February 5, 2018
Location: Toronto, ON, Canada
Next Founders is a program that accelerates the growth of Canada's most promising entrepreneurs by providing mentorship, access to capital, and unparalleled founder development.
They want to help scale both the founders and their business.
Scale your business and your mindset. Applications for the next cohort open on February 5, 2018.
---

Prize: Global recognition, conference passes, networking opportunities, mentorship
Deadline: April 19, 2018
Dates: June 5-6, 2018
Location: Vancouver, BC, Canada
SBIO is a business plan competition for the most disruptive mission-driven startups and entrepreneurs.
The contest provides an opportunity for next generation brands to showcase their innovative solutions to today's pressing environmental, social, and economic challenges, as well as connect and collaborate with multinational brands, accelerators, and thought leaders in sustainability.
Ventures in their post-launch phase are strongly encouraged to apply. 11 semi-finalists will receive full conference passes to compete at SB'18 Vancouver!
We're accepting applications from now until April 19th. To view competition details and see the prize list, check out the SB Innovation Open website.
---

Prize: €1,000,000 in cash
Deadline: June 1, 2018
Registrations are open as of March 1, 2018
Location: Amsterdam, the Netherlands
The Postcode Lottery Green Challenge is the world's largest competition in the field of sustainable entrepreneurship.
Green startups from all over the world can submit promising sustainable business plans from the 1st of March until the 1st of June for the 12th edition of the competition.
To be picked as a winner, your product or service must reduce greenhouse gas emissions.
The five finalists of the Postcode Lottery Green Challenge win a minimum of €100,000, the runner-up receives €200,000 and the winner takes the grand prize of € 500,000.
On top of the prize money, the five finalists are also offered a year of expert coaching. Rockstart, an Amsterdam-based startup accelerator, organises a several-month-long accelerator program for the five finalists on behalf of the Postcode Lottery Green Challenge: the Green Challenge Deep Dive.
The program is aimed at identifying the startups' biggest challenges and to provide them with mentorship and valuable connections to become investor-ready.
---

Prize: $42,000 in cash prizes; Training & mentoring
Deadline: March 7, 2018
Technovation offers girls aged 10 to 18 from around the world the opportunity to learn the skills they need to emerge as tech entrepreneurs and leaders.
Every year Technovation invites girls to identify a problem in their community, and then challenge them to solve it.
Girls work in teams to build both a mobile app and a business plan to launch that app, supported by mentors and guided by their curriculum.
All teams have an opportunity to compete in Technovation World Pitch. 6 junior and 6 senior winners will be invited to an expenses-covered trip to World Pitch for a chance to compete for $42,000 in cash prizes.
---

Prize: Global recognition
Deadline: April 2018
Location: Toronto, ON, Canada
The Entrepreneurs' Organization's Global Student Entrepreneur Awards (GSEA) is the premier global competition for student entrepreneurs who actively run a business.
EO GSEA nominees compete in qualifying competitions for the chance to advance to the Global Finals, held in April 2018 in Toronto, Canada.
With more than 1,700 competitors from more than 50 countries, EO GSEA is an exclusive opportunity for student entrepreneurs to make connections, find resources, and grow their businesses.
---

Prize: Training & mentoring
Deadline: June 1, 2018
Location: Frisco, TX, USA
CodeLaunch is an annual seed accelerator for people and groups with ideas for "Apps" who are seeking seed funding.
The CodeLaunch Pitch Day is the culmination of the competition and a showcasing of the best competitors.
If you have an "idea for an app" and nothing more you are qualified to apply.
If you have experience in business and passion for entrepreneurialism you are likely to advance.
CodeLaunch will continue to grow each year and has become an event with widespread interest from the start-up community including Angel Investors, Venture Capital, and other entrepreneurial organizations and leaders.
---

Prize: $100,000 in cash
Deadline: September 25, 2018

This is the oldest business plan competition in the US.
The goal of the Purdue University Burton D. Morgan Business Plan Competition is to provide an opportunity for Purdue students to learn about entrepreneurship through the development and presentation of a business idea to a panel of judges.
Participants in the competition have an opportunity to define their ideas in commercial terms and to compete for substantial cash prizes that could be used to further the commercialization of their inventions.
---

Prize: $100,000 in cash
Deadline: September 25, 2018

Launched in 1996, the Edward L. Kaplan, '71, New Venture Challenge is recognized as the #1 university accelerator program in the nation.
The program has graduated more than 160 start-up companies still in operation today and created thousands of jobs for the economy.
NVC companies have achieved more than $4 billion in mergers and exits, including Braintree, which acquired Venmo and was then later acquired by PayPal in 2013 for $800 million; Bump Technologies, which was acquired by Google in 2013; and GrubHub, which completed an IPO in April 2014.
Today, the NVC is a top-ranked business launch program designed to help student teams turn their ideas into viable businesses.
---

Prize: $10,000
Deadline: October 20, 2018
Location: Chicago, IL, USA
U.Pitch brings together the best students from a cross-section of universities in this ultimate national elevator pitch competition.
In just 90 seconds, you could pitch your way to victory! Plus, you could get the opportunity to showcase your idea or startup in front of hundreds of entrepreneurs, investors, business leaders and other students from the entrepreneurial community.
Participants will compete for part of a $10,000 prize pool for their innovative business or idea.
---

Prize: $100,000 in cash & prizes
Deadline: November 27, 2018
An innovative entrepreneurship competition for high school students offering $100,000 in awards.
The Diamond Challenge provides a unique opportunity for teens to learn about entrepreneurship while putting their ideas into action.
While many entrepreneurship programs focus on principles of small business management, the Diamond Challenge focuses on unleashing creativity, encouraging a mindset of abundance and self-determination, and promoting purposeful entrepreneurial action.
---

Prize: Access to funding & mentoring
Deadline: December 1, 2018
ESS is Europe's first seed investment competition solely for students and recent graduates.
They are looking for ambitious students and investors to take part.
If you are a student with a great idea, this is a great opportunity for you to get financial support for your venture as well as high quality feedback and access to the network of potential partners.
---
Prize: $1,000,000 in cash
Deadline: December 23, 2018
Compete in the planet's largest student competition to solve the world's toughest challenges and win $1,000,000 in cash.
The Hult Prize Foundation is a start-up accelerator for budding young social entrepreneurs emerging from the world's universities.
Named as one of the Top-5 ideas changing the world by President Bill Clinton and TIME Magazine, the annual competition for the Hult Prize aims to create and launch the most compelling social business ideas—start-up enterprises that tackle grave issues faced by billions of people.
Winners receive USD 1 Million in seed capital as well as mentorship and support from the international business community.
---

Prize: $100,000 in cash & prizes
Deadline: December 31, 2018
One competition – three independent contests – from October through May.
For 29 years, the MIT $100K Entrepreneurship Competition has been bringing together students and researchers from across MIT and Greater Boston to launch their talent, ideas, and technology into leading companies.
The competition is run as a series of distinct, increasingly intensive contests: Pitch, Accelerate, and Launch.
Each contest focuses on developing specific founding skills, and for each semi-finalist contender the MIT $100K brings together a network of resources, including mentorship from venture capitalists, serial entrepreneurs, corporate executives, and attorneys; media exposure; prototyping funds; business plan feedback; and discounted services.
Additionally, more than $300K in non-dilutive awards help these new ventures accelerate.
---

Prize: $100,000 in cash
Deadline: Rolling basis
While this opportunity does not fall into the business plan competitions category, it is an opportunity to get a financial grant to support your venture.
Founded by technology entrepreneur and investor Peter Thiel in 2011, the Thiel Fellowship is a two-year program for young people who want to build new things.
Thiel Fellows skip or stop out of college to receive a $100,000 grant and support from the Thiel Foundation's network of founders, investors, and scientists.
If you are 23 or young, you might want to consider it.
Did we miss any of the business plan competitions that you think we should include to our list?
Let us know by filling in our contact form.
---
For more business opportunities, check our opportunities section and subscribe to our weekly newsletters.