This is the same time of the year again, full of hopes and promises for the next year.
Luckily, there are more opportunities for professional and personal growth us, young professionals, can apply for than ever.
Want to travel the world? Meet like-minded people? Develop and expand your own project?
If at least one of these questions resonated with you, you would enjoy our picks for this fall.
Here are the 10 best career opportunities in fall 2018, sorted in no particular order.
The 10 best career opportunities that you cannot miss in fall 2018
---

Deadline: January 15, 2019
Eligibility: open to all individuals internationally
Date: July 2019
Location: Madrid, Spain; San Diego, U.S; Baja California, Mexico and 1 to 2 other locations of your choice in Asia, Europe or South America
Apply for the International MBA program at University San Diego and get a change to win one of the available scholarships!
The International MBA (IMBA) is a perfect match for professionals willing to enhance their business skills, gain international network and accelerate their careers.
The one-year program kicks off at the University of San Diego's Madrid Center, located a few blocks away from Retiro Park and the Prado Museum. An economic, cultural and political hub of Europe, Madrid is an amazing place to begin your journey in international business education.
By learning the most recent issues that Europen businesses face, you will learn about the best global business practices and gain the skills necessary to lead multicultural teams and international organizations.
Companies site visits in Madrid will help you observe their successes and challenges firsthand. Meanwhile, faculty from the University of San Diego and business executives from Spain provide diverse perspectives on international business.
After a summer in Madrid, you will continue your IMBA program in San Diego, joining classes with the other MBA students. The curriculum covers a broad scope of professional possibilities, from entrepreneurship to consulting.
---

Dates: October 22-25, 2018
Prices: starting from USD 599,-
Location: New York, The United States
The fifth SmashingConf New York will explore performance, Progressive Web Apps, HTTP/2, Vue.js, serverless, improving engagement, ethics, Webpack, design workflow, branding, machine learning and how to make a strong argument with your clients. Plus a bunch of hands-on workshops on design, front-end and UX.
The main focus of the conference is to give new insight into how we can work together to solve current design problems or brainstorm workflow solutions! Use the experience of your fellow attendees and speakers to create new ideas or develop old thoughts and tasks.
Two workshop days and two full conference days, neatly packed with practical talks on smart techniques, clever strategies, useful tools, as well as lots of learning, sharing and networking.
---

Deadline: November 30, 2018 00:00 (CET)
Eligibility: All students in the United States, Canada, and Puerto Rico are eligible to participate in this challenge
The P&G CEO Challenge is a competition which will test your aptitude for business strategy and real-life problem-solving.
If you've been eager to demonstrate your ingenuity and intelligence beyond your campus, this is the chance to make an impression on a global scale.
Prepare to compete with teams from around the world to see who is most fit to be the next CEO of P&G.
Top students will ascend to the Global Final in Dubai and win the opportunity to meet P&G CEO David Taylor. First, prepare to showcase your ability to think critically about leading brand Gillette. Best of luck!
---

Deadline: December 7, 2018 00:00 (CET)
Eligibility: Undergraduate and graduate* college/university students who own and operate a business for at least six months are eligible to compete
Date: December 13, 2018
Location: Madrid, Spain
The Global Student Entrepreneur Awards (GSEA) is the premier global competition for students who own and operate a business while attending college or university.
Nominees compete against their peers from around the world in a series of local and/or national competitions in hopes to qualify for GSEA Finals.
Global Student Entrepreneur Awards support student entrepreneurs who require much-needed mentorship, recognition and connections to take their businesses to the next level of success.
---

Deadline: October 31, 2018 00:00 (CEST)
Eligibility: The 2019 Baylor New Venture Competition is open to all not-for-profit accredited university students and recent alumni
Dates: February 20-23, 2019
Location: Waco, the United States
The Baylor New Venture Competition is a multi-round business plan and elevator pitch competition hosted by the Baugh Center for Entrepreneurship and Free Enterprise at Baylor University.
Underwritten by an anonymous gift to Baylor University and the Hankamer School of Business, the competition promotes student entrepreneurship by showcasing student created, managed, and
owned ventures.
Student entrepreneurs from not-for-profit accredited universities across the globe are offered expert feedback, coaching, and a prize package of cash and crucial in-kind business support services, to launch and grow their ventures.
---

Deadline: November 15, 2018 00:00 (GMT-0700)
Registration fee: starting from USD 100,-
Eligibility: The company's product and/or service must have launched no earlier than March 9, 2017 and not after June 9, 2019; Each company may only enter one product or service to SXSW Pitch; Founders of the company applying must retain some portion of ownership in the company; Each applicant is only eligible to present in one of the SXSW family of startup events (SXSW Pitch, SXSW Release It, SXSW Launch EDU); The Company must not have raised over ten (10) Million Dollars in funding from combined funding sources; and the product or service must fall into one of the SXSW Pitch categories.
Dates: March 9-10, 2019
Location: Austin, the United States
The eleventh annual SXSW Pitch (formerly SXSW Accelerator) takes place in front of a live audience and panel of expert judges to discover advancements in various sectors of emerging technology.
A live audience, as well as a panel of expert judges, will discover advancements in various sectors of emerging technology at this SX event.
The best part – product demonstrations by the most ambitious talents in the world with the creative new ideas to change it.
---

Deadline: November 30, 2018 11:30 (CET)
Eligibility: Citizens of any of the 51 ASEM partner countries between the ages 18 and 30; university students from all levels (undergraduate, graduate, doctoral); members and leaders of student associations engaged in academic affairs, student
life or sustainability matters
Dates: May 11-14, 2019
Location: Bucharest, Romania
Established in 2008, the ASEF Rectors' Conference and Students' Forum (ARC) is a multi-stakeholder dialogue platform for university leaders, policy makers and student leaders to discuss higher education issues and shape the education landscape in Asia and Europe.
To date, over 650 university leaders representing 226 universities from 51 Asian and European countries have participated in the conferences.
---

Deadline: December 8, 2018
Dates: March 29-31, 2019
Eligibility: Minimum of a bachelor's degree in any field; strong interest in learning about China and engaging in nuanced, interdisciplinary discussions which address critical societal issues relating to China; available for the entirety of the conference, March 29-31st 2019 (and available for any required travel time to and from Beijing); have not attended any of the previous Yenching Global Symposiums or Yenching Social Innovation Forums; English Proficiency; leadership potential; bonus: involvement in China-related activities – academic, voluntary, professional, extra-curricular
Location: Beijing, China
The objective of this conference is to incorporate a gender nuance into the larger discourse on China. To this end, gender-related perspectives are the unifying thread through which we explore contemporary China's most important issues.
Wǒmen: Retelling the China Stories moves Yenching Global Symposium forward in its vision of fostering the next generation of thought leadership on China through the symposium's agenda-setting role.
---

Deadline: December 3, 2018 00:00 (CET)
Eligibility: recent graduate, student teams with sustainable and scalable business ideas should apply
The Global Social Venture Competition (GSVC) empowers the next generation of social entrepreneurs by providing them with mentoring, exposure, and over $80,000 in prizes to transform their ideas into ventures that address the world's most pressing challenges.
Teams from across the globe learn how to design scalable models through a process that emphasizes stakeholder discovery, business innovation, and social impact assessment.
For the 2019 competition, all ventures must have a technology component to their venture, whether a product, hardware, software, web platform, mobile app, wireless, etc.
---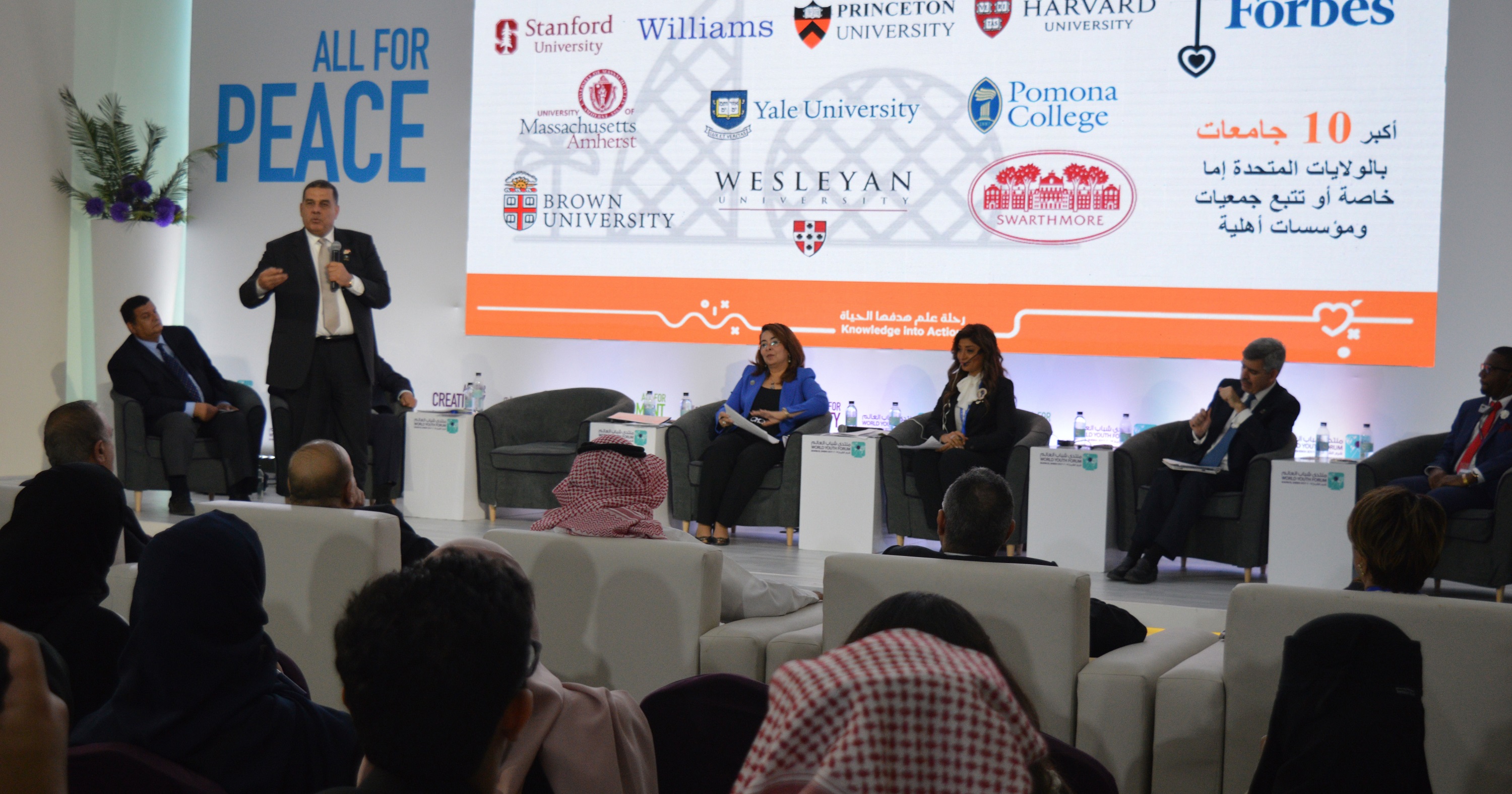 Dates: November 3-6, 2018
Deadline: October 15, 2018
Price: Fully-funded (incl. accommodation, international and domestic flights, meals)
Eligibility: young professionals aged 18-40 from around the world are encouraged to apply
Location: Sharm El Sheikh, Egypt
World Youth Forum is a platform built by promising youth. It sends a message of peace, prosperity, harmony, and progress to the entire world.
It engages youth from around the globe in an enriching set-up, allowing them to exchange views and recommend initiatives to decision-makers and influential figures.
The forum is a chance for you to engage with top policymakers, network with promising youth from the region and the world that are determined to make our world a better place for everyone.
How did you like these career opportunities? Which one did you like the most? Let me know by leaving a comment below or get in touch with us via our contact form.
---
For more business and career opportunities, check our opportunities section and subscribe to our weekly newsletters.